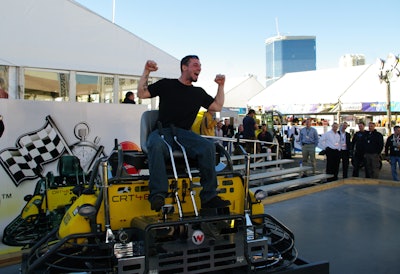 Wacker Neuson held its third annual Trowel Challenge at the 2011 World of Concrete in Las Vegas.
More than 150 trowel operators took this year's challenge held in Wacker Neuson's outdoor exhibit. The challenge tested the participants' range of skills as they maneuvered around an obstacle course on the 2,400-square foot slab. The contestants with the top 10 times from the preliminaries advanced to the finals, which were held on Jan. 20. The finalists each had one run through the course, and that time was added to the preliminary time.
Stu Angeli, representing Lindsay Lampasona Concrete Building Partners, had the fastest overall time. His company took home the grand prize: Wacker Neuson's customized CRT 48-35VX ride-on trowel powered by a special Vanguard Big Block, V-twin engine and an all-expense-paid trip for two to the Caribbean.
Angeli came into the finals in fourth place, but his final run time of 28.091 gave him a combined winning time of 56.426 seconds. Runner up, Jody Knockwood from Power Concrete Finishing, finished in 57.356 seconds. This year's competition was fast, with all of the finalists finishing under last year's winning time of 68.16 seconds.
For more information about the challenge, visit trowelchallenge.com.