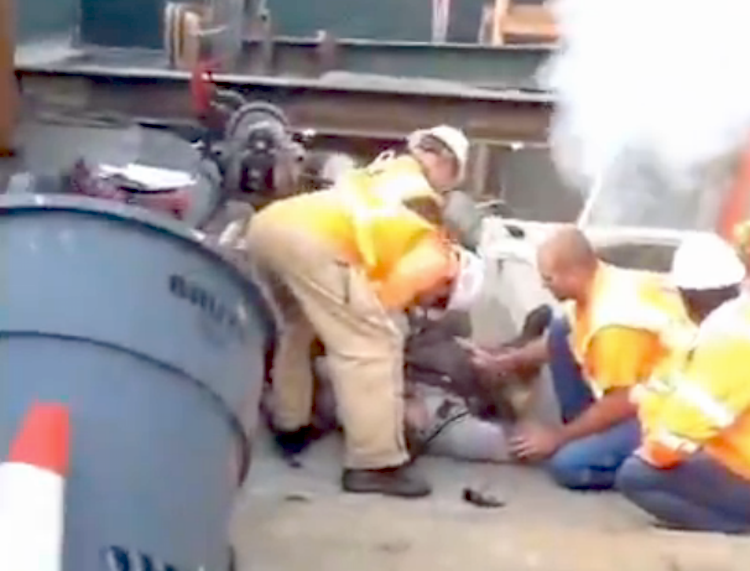 Santa Clara County officials have released footage of a terrifying steam explosion that occurred one year ago, citing the video as evidence of San Jose contractor Turner Construction's breach of contract on the construction of an earthquake retrofit at Valley Medical Center.
The accident, seen in full in the video below, involved a pipefitter launched from a manhole following a steam explosion. Here's what happened, according to  to information provided to LiveLeak by Santa Clara County:
The video shows workers activating the steam system for the North Utility Loop which provides steam and chilled water to the facilities at Valley Medical Center. During the course of the process for starting the steam system, the audio clearly demonstrates a loud popping sound, followed by verbal concerns expressed by crews on site. 
Then, after over a minute of the audible popping noises, as a crew member attempts to escape the underground vault, the pipe explodes discharging boiling hot steam.
The worker somehow walked away from the incident completely unharmed.
According to a report from the San Jose Mercury News, county officials are accusing Turner of a breach of contract on the $300 million project and say the shocking footage is a clear example of safety lapses and delays the company should be held accountable for. The project was originally scheduled for completion September 19 and the county has voiced its plans to fire Turner.
Santa Clara County director of facilities Jeff Draper said the workers in the video "should have evacuated immediately and shut the system down," after hearing the initial noises from the system.
Turner has defended its safety record and spokesman Larry Kamer told the paper that fault for the delays on the project are shared between his company and the county.
Editor's Note: The video below does contain strong language.