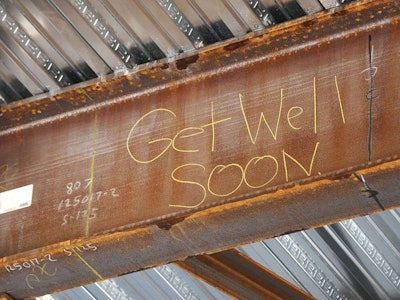 Another group of construction workers is making life for children battling serious illnesses just a little bit brighter, this time in St. Louis.
According to a report from ABC News, two ironworkers working on an addition to St. Louis Children's Hospital wrote a message to a little girl in late July after noticing her waving at them from the window of her room.
Since her treatments for acute lymphoblastic leukemia started in February, 2-year-old Vivian Arnold has spent most of her time at the hospital watching the construction crews from her window, ABC reports.
"We see the kids waving at us and stuff," said ironworker Greg Combs, himself a father of two. "She was waving at us and making faces. She was sweet and made us smile. We wrote 'get well soon' on the crane and put it passed her window. I guess we made her day that's the most important thing."
In addition to giving Vivian and her family a bit of hope, the messages from the workers brightened the days of many other children and families in the hospital.
Patients at Stony Brook Children's Hospital in New York received a similar kind gesture from a group of ironworkers, also in July.