No. 1 Video in 2014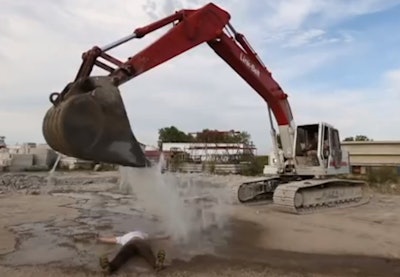 When we were putting together our original roundup of Ice Bucket Challenge videos, we were surprised at just how many we were able to find with people using heavy equipment. We were also surprised that none of them included people being seriously hurt since standing under an excavator, loader bucket or dump truck and letting hundreds of pounds of water fall directly atop your head sounds like something that could go horribly wrong.
And that's where the video below comes in.
In the video, Ryan Pflederer attempts to take the Ice Bucket Challenge. But when he tells the operator of the excavator to drop the water there seems to be some confusion regarding the controls. And then…well, watch the video for yourself.
Many online are debating whether this video is fake or real. (It's definitely fake.) You can tell us what you think in the comments. Regardless, the video does a good job of pointing out why goofing around with heavy equipment, even if it is for a good cause, isn't a great idea and could easily result in a serious injury.