Editors' Pick, Top Videos in 2014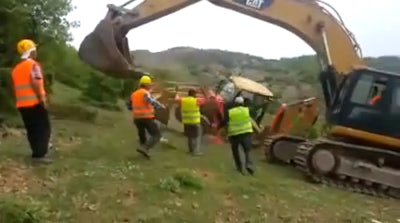 Everything about this video goes according to plan—except the last 10 seconds.
Uprighting an overturned backhoe on a steep incline is no easy task and this crew appears to be up to the job. Lots of communication and the excavator operator is taking his time with lifting the machine back onto its wheels.
In the end though, the wheels are the problem. Turns out, when you place a wheeled object on a hill and forget to engage the emergency brake, gravity takes over and does her job without flaw. Unlike this crew. Watch the video below.