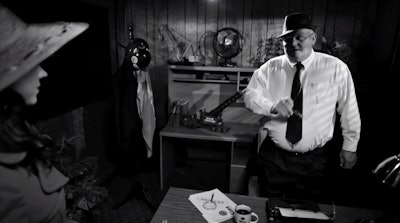 Back in February of this year, Sims Crane & Equipment, a dealer and equipment rental company with locations across Florida, began posting some really well done safety videos to their YouTube channel.
The videos, titled "Sims Crane Minute" are based on a 2012 report from the Specialized Carriers and Rigging Association that identified the top 10 the Specialized Carriers and Rigging Association.
So Sims thought it would be a good idea to address each 10 issues with some informative videos starring its Director of Safety Bob Berry. The first three videos cover improper rigging, overloading and ground collapse and the production quality alone of these make them worth your time.
[youtube mPcCcWF0SnU nolink]
But on episode 4, which discusses gravity, the team got a little creative. As soon as I saw the flickering film and ominous music, followed by the words "The Sims Initiative" appear on the screen, I knew that I was in for some sort of tribute to the popular TV show "Lost." What follows is about two and a half minutes of great information filmed in the style of the Dharma Initiative films from "Lost." 
And on episode 5, titled "Citizen Crane," Sims deals with serious weather conditions with a parody of, you guessed it "Citizen Kane." 
We can't stress enough how great of an idea these videos are, but as we said before, what really puts them over the top is the production quality. These weren't thrown together with a cheap camcorder and a few minutes of editing. A lot of time was put into these and the end result is the full attention of the audience.
We can't wait to see what else Sims comes up with. You can watch the "Lost" parody above and the "Citizen Kane" parody below. Click here to see the full Sims YouTube Channel.
[youtube tpMmhLzGwPg nolink]