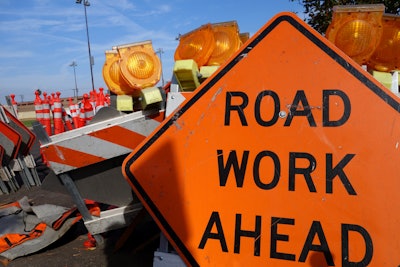 Getty Images
A survey crew chief on the I-26 widening project in Asheville, North Carolina, died August 17 when he was run over by a dozer that was backing up in a work zone.
Russell Victor Penley, 29, was conducting a surveying operation on the project at about 10 a.m. when a dozer operator was working nearby, according to news reports. The dozer operator was in reverse, did not see Penley and backed over him.
Penley, of East Flat Rock, North Carolina, had worked for United Infrastructure Group for 2-1/2 years as a survey crew chief. United is part of a joint venture with Fluor as the project's general contractor.
N.C. Department of Transportation spokesman David Uchiyama released the following statement following the fatality:
"The thoughts and prayers of NCDOT employees and leadership extend to the employee's family and our partners at Fluor-United. This is a tragic reminder of how our employees and contractors risk their lives every day serving the public."
Fluor-United temporarily halted construction on the project after the fatality. The death occurred outside of traffic near mile marker 37. The U.S. Occupational Safety and Health Administration is investigating as are police.
The project at times has 100 to 120 workers on site. The interstate is being widened to four lanes in each direction for 7.5 miles.
Penley leaves behind two sons, ages 6 and 10. Along with his work in construction, he was involved in mission trips with Carpenter's Hands Ministry.
A leading cause of death
Struck-by incidents are the second-leading cause of death of construction workers. Falls are the leading cause.
According to CPWR, 90 construction workers were killed in 2019 after being struck by equipment, and 15,000 workers were injured after being struck by equipment or an object.
The other leading cause of struck-by fatalities for construction workers is being hit by a vehicle. There were 80 such deaths in 2019.
"Struck-by fatalities accounted for 170 (15%) of the 1,102 deaths in construction" in 2019, CPWR says.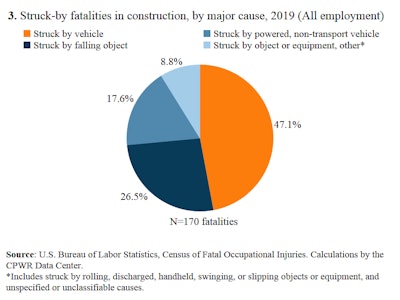 How to prevent struck-by incidents
The Centers for Disease Control and Prevention offers the following tips for preventing struck-by incidents on construction sites:
Wear appropriate protective gear (safety glasses, hardhat, face shields, etc.).
Use pedestrian walkways and exercise caution when working near heavy equipment.
Inspect all tools and equipment before use.
Increase the visibility of workers and equipment.
Use positive barriers between workers and traffic, work vehicles, heavy equipment and falling objects.
Employ prevention methods using vehicle technologies such as: driver warning systems, worker warning systems, speed reduction systems, rollover protection structures, seatbelts.
Raise awareness by training workers and holding regular toolbox talks on struck-by injury prevention.