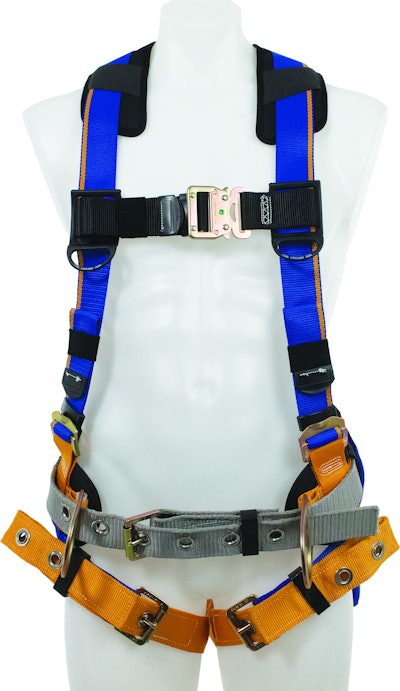 Wearing a harness is a good way to protect construction workers from falls, but a harness can also become a danger if the worker is not rescued quickly.
That's because it cuts off circulation in the legs, which can lead to unconsciousness and death within minutes.
Hoping to buy a fallen worker more time for rescue, Werner Ladder has developed a new harness with a relief handle to prevent suspension trauma, the company says.
The relief handle on the Blue Armor and LiteFit fall protection harness series relieves pressure on the femoral arteries. Without such relief, suspension in an upright position in a harness can be fatal after 5 minutes.
When a worker falls wearing the new harness, the relief handle will put the victim in a "gravity override position," the company says.
"While hanging in suspension, users simply use their thumb or four fingers to shift their weight into a safe post-fall position to relieve pressure on their femoral arteries," the company says. The handle is bright blue to help workers locate it quickly. The harness can be adjusted while the victim is suspended, to relieve pain and pressure points.
Werner says it also made the harness more comfortable, with new padding that has a breathable compression interior, a back strap for added support and more flexible fabric designed to move with the wearer. More padding was also added to the waist pad, and the harness has five-point adjustment for improved fit, designed to accommodate most body frames, the company says.
The harnesses in the series are OSHA and ANSI compliant, according to Werner. The harnesses also feature new chest strap stitching, marked lanyard keepers and a D-ring roller to protect webbing for added durability.