Mobile elevated work platform manufacturers are using on variety of ways to address the hazards of loading and unloading machines on trailers, as evidenced by two announcements made at the recent American Rental Association Show.
Drive via smartphone
In contrast to using a remote frequency control box that requires handling a hefty control module connected by a chord to the machine, JLG's Mobile Control app option allows users to drive, steer and load the company's new R Series scissor lifts from an iOS mobile device.
"We think that corded system will be a thing of the past," says Rafael Nunez, JLG senior product manager for scissor, vertical and low-level access lifts. "All of our machines eventually are going to controlled by an app." The system is now available as an aftermarket option and will debut on the company electric ES Series scissors later this year.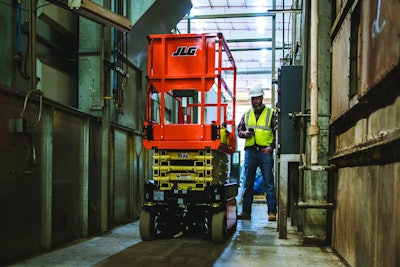 The app allows users to operate a machine equipped with control hardware and in a stowed position. It's designed to alleviate some of the hassles rental companies and others experience when loading/unloading machines for transport.
"Sometimes rental companies require a driver to be on the machine when loading or unloading it on a truck," Nunez says. "It may be slippery and wet, causing the machine to slide, which is not the most comfortable feeling when you're operating."
Other companies require that the truck driver stand next to a machine during loading/unloading. "We had some customers asking if we could make the cord longer, but we really just wanted to make the cord disappear," Nunez says.
Another application where the Mobile Control app shines is traveling through doorways, which can involve extra maneuvering if you're using a chorded remote control, Nunez adds. "With this you can just stand behind it and drive it," he says.
The app displays the essential controls needed to run the scissor, along with battery and machine status. By pressing the horn symbol, operators can alert surrounding personnel about machine movements. An incoming phone call or text stops the machine being moved.
Depending on customer discounts, the necessary hardware to control the machine with the app will cost between $300 to $500 per unit, Nunez says. The app is free and can operate the machine from up to 20 to 30 feet away. Each machine has a unique QR code tied to the machine's serial number, which is loaded on the Mobile Control app.
Skyjack's autonomous project
Skyjack's approach to loading/unloading safety is part of its autonomous research.
During the ARA Show, the company demonstrated a concept project, with Rory Pullen, Skyjack's technical support and service manager in Australia—positioned 7,000-plus miles away in front of the Sydney Opera House—controlling a SJ3215 scissor lift on the show floor in Anaheim, California.
Pullen used a smart phone to connect to the show floor machine, which responded to his commands to move forward/backward, steer left/right and raise/lower the platform during a machine self-check.
One practical part of this project would be helping customers safely load/unload trucks, says Brad Boehler, Skyjack president. Another possibility: automated jobsite delivery, with the machines loading/unloading themselves off a trailer.
"It will also be a time saver, with machines being able to auto muster around the rental yard," going through various stages of the rental ready process, Boehler says.
Skyjack used the video below to explain its autonomous exploration: