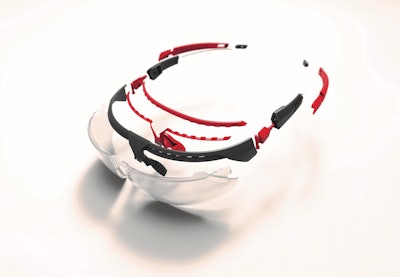 Safety glasses are typically one-size fits all. And if they don't fit you, too bad. The new Uvex Avatar safety glasses from Honeywell solve this problem with eight points of adjustability.
The sport-styled glasses have soft temple tip pads for better comfort underneath hard hats. You can also adjust the angle of the glasses 15 degrees to better align with the geometry of your head. A flexible nose pad and floating nose loop help the glasses sit more securely on your face. The soft brow frame keeps the glasses comfortable for all-day wear. An anti-fog and a patent-pending indirect vent system promotes air circulation to further reduce fogging problems.
The wrap-around design of the Uvex Avatar glasses maximize field of vision and protective side coverage and come in five different tints for indoor or outdoor use. An anti-scratch coating improves durability. Frames are available in five colors, black, blue—and if you insist on sharing your fashion sense with your co-workers—red, teal and yellow. Should OSHA or the boss get on your case, tell them the glasses meet ANSI Z87.1, CSA Z94.32 and EN166 safety standards.