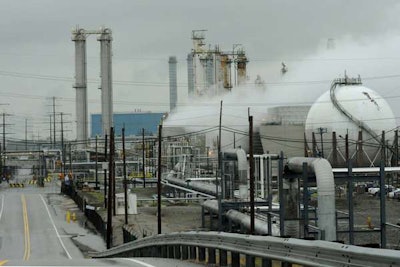 A construction worker was killed Tuesday while working on a large-scale industrial complex conversion project in Pennsylvania.
According to a report from StateImpact Pennsylvania, the unidentified, 50-year-old worker was killed after a 1,200-foot pylon fell on top of him while working at the Sunoco Logistics plant in Marcus Hook.
The man worked for engineering firm AECOM, a contractor working on the former refinery's $2.5 billion conversion to a natural gas storage and processing plant.
"We are tremendously saddened by the loss of one or our people,"  Ed Mayer, an AECOM spokesman, told StateImpact in an email. "Our thoughts and prayers are with the family, who have asked that their privacy be respected at this time."
The Occupational Safety and Health administration is investigating the cause of the incident.