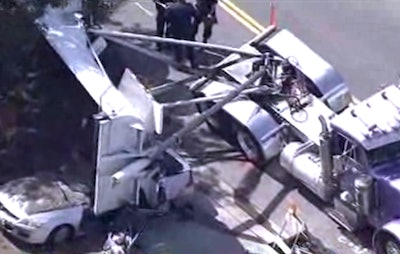 In a tragic accident earlier this week, a pregnant woman asked by a construction crew to move her car was killed when a gravel truck overturned.
According to reports from KPIX TV and the San Francisco Chronicle, 32-year-old Linsey Combs was asked to move her car farther away from a city sidewalk project around 1 p.m. Monday in Martinez, California, near San Francisco.
As her 4-year-old daughter looked on, a worker was assisting Combs in backing out of the driveway in order to allow a truck carrying 20 tons of gravel to move in and unload, CBS News reports. However, the gravel shifted sending the load and trailer directly on top of the car, crushing Combs inside.
The Chronicle reports San Mateo-based company JJR Construction is contracted by Martinez to build the sidewalk. The California Occupational Health and Safety Administration told the paper the trailer that tipped was rented from Greg's Trucking Service by Daryl Crockett, who owned the truck.
Police and Cal/OSHA will continue an investigation into the accident.