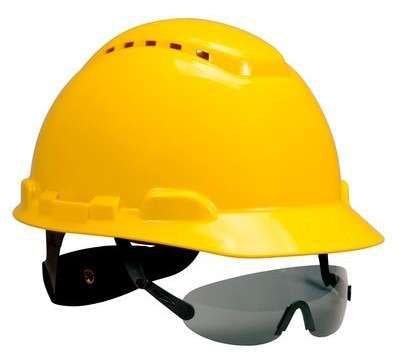 Wearing safety glasses with a hard hat can sometimes be a pain. As soon as you've got the hard hat adjusted just right, adding a pair of glasses can start the adjustments all over again.
Thankfully, 3M says it has the solution: incorporate the protective eyewear directly into the suspension of its hardhat.
The 3M HIE6 Protective Eyewear attaches directly to the hard hat suspension. In addition to an everything-in-its-place solution, the weight of the eyewear is taken off a person's nose and away from their temples. Prescription eyewear can fit underneath too.
And when the glasses aren't needed, they retract between the hard hat shell and suspension, keeping them out of the way and out of danger from scratching when not in use and making sure they remain with the hard hat.
The eyewear integrates with 3M's H-700 and H-800 Series hard hats; the lens come in clear, amber and gray and feature an anti-fog coating to combat moisture build up.