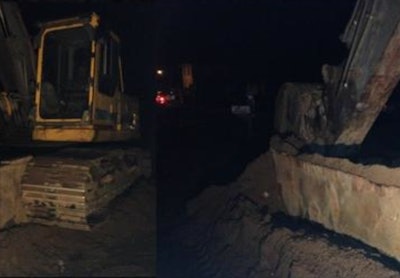 A construction worker in Windsor, Connecticut was killed Friday in a tragic trench accident.
Danny King, 51, was working inside a trench Friday afternoon as part of a water line replacement project when he was crushed between a backhoe and a trench box, according to a report from NBC Connecticut. Paramedics made attempts to save King's life upon arriving at the scene. He was pronounced dead at the hospital.
King was the son of John King and worked for his father's company King Construction. The company was working as a private contractor for the Connecticut Department of Transportation.
John King told NBC Connecticut that in his company's 50 years of operation it's never seen an accident like this one. The family's grief is compounded by the fact that Danny King's daughter was killed in a car accident on Mother's Day just a few years ago.
The Occupational Safety and Health Administration considers caught-in/between accidents among the four most deadly accidents on construction sites today. These accidents can happen at a moment's notice and it's important that each member of a crew be focused and attentive especially on busier sites. We've listed guidelines for avoiding caught-in/between incidents and you can read that overview by clicking here.