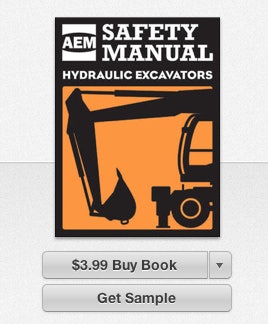 The Association of Equipment Managers recently published its fourth safety manual to Apple's iBooks e-book platform for the iPhone, iPod touch and iPad.
The latest manual deals with industrial/agricultural mower safety. Safety manuals on hydraulic excavators, aerial work platforms and agricultural sprayers are also available. The manuals are all priced at $3.99.
The association says it's part of a continuing effort to make all of its safety manuals available as e-books through Apple's platform. AEM says it plans to expand the manuals to other formats, such as Google Play and Kindle, in the future.
"Mobile devices are rapidly increasing in use and capabilities," said Larry Buzecky, AEM director, safety materials, in a prepared statement. "It just makes sense to convert our safety manuals to e-book format, to ensure we reach the greatest number of industry professionals possible in the way that best meets their needs."
To order one of these AEM safety manuals, install the iBooks app on your iPhone, iPod Touch or iPad if you haven't already. Open iBooks, tap Search and type the manual you're looking for. You can also browse iBooks from your computer through the iTunes application.