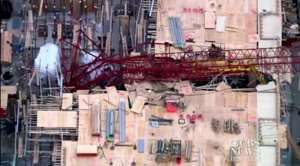 In the second crane collapse in as little as three months in the city, a 200-foot crane came toppling down onto a building being built in the Queens borough near the East River waterfront in New York City Wednesday.
Thankfully, no one was killed. But seven people were hurt, three of whom needed to be pulled from beneath the crane, CBS News reported.
When the crane fell around 2:30 p.m. Wednesday, workers did their best to get out of its path. But the crane moved quickly, trapping three and causing injuries such as broken bones. None of the injuries was life-threatening.
One carpenter working on the 25-story apartment building the crane fell on top of told CBS News he saw the cable whip toward him and the impact of the collapse shook the scaffolding he was standing upon.
This is the city's third crane collapse in less than a year. In October, a crane collapsed in Manhattan due to winds generated by Hurricane Sandy.