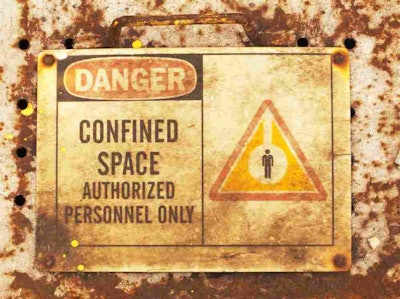 Two construction industry rules are listed to be finalized in 2013 on OSHA's semiannual regulatory agenda, published today.
The first deals with confined spaces in construction. According to the agenda, OSHA issued a rule in 1993 to "protect employees who enter confined spaces while engaged in general industry work." The general industry standard, 29 CFR 1910.146, has up until this point not been enforced in construction due to the unique nature of each construction site and the variance in their hazards.
However, the agenda notes that "after discussions with the United Steel Workers of America that led to a settlement agreement regarding this standard, OSHA agreed to issue a proposed rule to protect construction workers in confined spaces." OSHA expects to finalize the rule in July.
The second rule up for finalization on the agenda is a standard on electrical protective equipment used when constructing electric power transmission and distribution lines. The current standard, as the agenda notes, is nearly 40 years old. The agency reports that it has developed an update to the standard that will prevent many of the 50 deaths per 100,000 employees that occur each year due to electrical hazards.
"OSHA also intends to amend the corresponding standard for the general industry so that requirements for work performed during the maintenance of electric power transmission and distribution installations are the same as those for similar work in construction," the agenda reads.
The agency hopes to finalize the electrical equipment rule by March.