Trenchers
By Wayne Grayson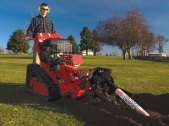 SINGLE-HANDED CONTROL
Barreto Manufacturing offers multiple application solutions with the TK Track Trencher Series. TK series walk-behind trenchers feature an ergonomic single-handed control, with engine options ranging from 13 to 30 horsepower and trench depths between 24 and 48 inches. Track trenchers have a larger footprint, doing less damage on the landscape than wheeled trenchers, Barreto says. By combining tracks with additional weight, TK Track Trenchers can improve the ability to keep the trench straight.
Visit EquipmentWorld.com/info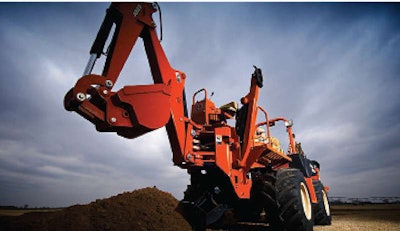 CRUISE CONTROL
The new Ditch Witch RT80 Quad ride-on trencher provides traction and performance on rough and uneven terrain. Combining 83 horsepower, a three-speed, shift-on-the-fly ground drive and a compact footprint, the RT80 Quad can meet the demands of both long and short utility installations on either tight or wide-open jobsites. Attachments include a vibratory plow, saw, backhoe, traversing trencher and the H810 centerline trencher, capable of trenching up to 24 inches wide. Other standard features include rear steering, which helps improve maneuverability on tight jobsites, and cruise control, which enables the operator to maintain optimal digging performance regardless of ground conditions.
Visit EquipmentWorld.com/info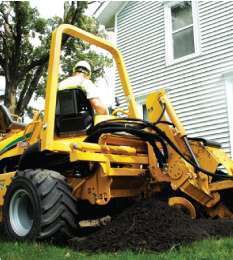 Trencher Maintenance Tip
Daily:
• Walk around the machine, doing a full visual inspection, looking for any damage
• Grease the end idler, bearings and cylinder ends.
Other daily items may include:
• filling the fuel tank
• checking all fluid levels
• checking the air cleaner restriction indicator
• draining the fuel/water separator if applicable.
Work should be performed at the end of the shift and should only take about 15 minutes.
Weekly:
• Look at the condition of the engine belt
• Grease the axle and drive shafts
• Adjust track tension, if applicable
• Check attachments and follow their individual maintenance checklists.
Also, if the machine has a track system, pay attention to the track tension. Be sure to check and adjust the tension according to procedures outlined in the maintenance manual.
Finally, it is crucial to follow the engine manufacturer's maintenance recommendations, which are separate from trencher procedures.
Source: Vermeer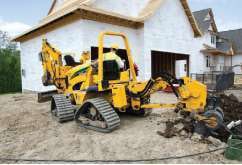 QUAD-TRACK DESIGN
With a 74-horsepower Tier 3 Cummins engine providing a 40 percent torque rise and a quad-track design, the Vermeer RTX750 trencher maximizes tractive effort and stability by maintaining constant four-point ground contact, providing full power to all four tracks. Choose between quad tracks or rubber tires, depending on your ground conditions and applications. When equipped with tires and rear steering, the RTX750 has an outside turning diameter of 17 feet, designed for confined jobsites. Equipped with planetary axles, the RTX750 ground drive system operates at low torque levels. With a button push, an operator can engage the differential locks when added traction is necessary. The RTX750 is available with a vibratory plow, trencher, sliding offset trencher, combo trencher / plow, reel carrier and backhoe attachments.
Visit EquipmentWorld.com/info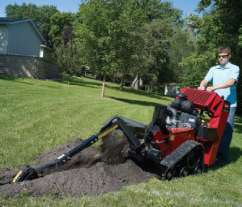 WALK-BEHIND WITH RIDE-ON POWER
The Toro TRX-26 walk-behind trencher features a 26-horsepower Kawasaki engine and is designed for utility workers, irrigation contractors and plumbers looking for the power of a ride-on trencher, with the maneuverability and control of a walk-behind. The TRX-26 control doesn't require steering like handle bar trenchers. Instead, three simple controls operate all traction and trenching functions. The tracked trencher allows for zero-degree turns, and its low center of gravity and large footprint eliminates ruts created by tires while providing increased stability on hills and the ability to operate in wet and soft ground conditions.
Visit EquipmentWorld.com/info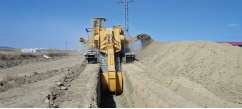 TURBOCHARGED TRENCHING
Trencor's T1760 mechanical drive chain trencher offers power and performance in tough digging conditions and is designed for pipeline work as well as water, sewer, and utility installations. Powered by a 950-horsepower Caterpillar turbocharged diesel Tier 2 engine that provides 3,122 foot-pounds of torque at 1,400 rpm, the T1760 can trench up to 72 inches wide at a depth of 16 feet, or up to 36 inches wide at a depth of 30 feet. Four newly designed, 10-inch bore boom lift cylinders improve performance and reduce maintenance points. The product line includes seven models that can be configured to meet custom applications.
Visit EquipmentWorld.com/info
REPLACEMENT CHAINS
Ballantine's new Innovator Series trencher replacement chains are designed to improve the performance of your trencher in all soil conditions, including rock, frost, and coral. The chains allow smoother ground engagement, helping against side wandering and "chain hop." It produces a round bottom trench that fits and centers cable products and uses up to 60 percent less horsepower, saving both fuel and time. The chains have heavy duty bushings, abrasive resistant alloy steel and a raised rivet chain design for longer wear.
Visit EquipmentWorld.com/info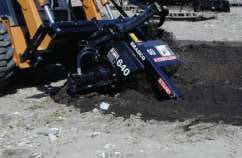 LIMBER LINEUP
Bradco's trencher line includes the 330, 612, 615, 615F, 625 and 640, available in both standard and high-flow models. Cutting depths range from 24 to 60 inches with cutting widths ranging from 3 to 12 inches. The 330 uses a 38,000-pound anti-back-flex chain designed for medium to hard conditions while the remaining models use a 50,000-pound chain for extended life in tougher soil conditions and applications with small rocks.
A discharging auger places dirt away from the trench to eliminate refilling. For jobs that require close proximity to buildings, fences, walls and other obstacles, the Bradco 615F's offset auger discharges the dirt to one side away from the trench. A heavy- duty crumber and safety bar also provide better trenching precision, while minimizing flying debris.
Visit EquipmentWorld.com/info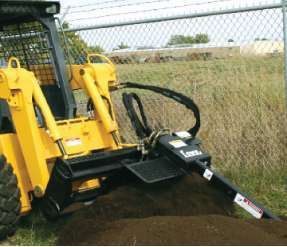 MANUAL SIDE-SHIFTING
Designed for use on skid steer loaders and compact track loaders, Lowe's XR Series trenching attachments feature built-in manual side-shifting. A hydraulic side shift is optional for users that need to make numerous adjustments to the side-shifting capability. The XR-14 through the XR-35 feature a fixed, self-aligning boom with an industrial-strength grease cylinder adjustment system, a durable anti-back flex digging chain, double-flighted auger for fast soil removal and high-strength maintenance-free tapered roller bearings in the boom nose.
Visit EquipmentWorld.com/info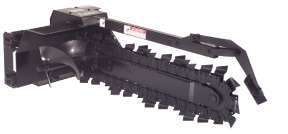 SKID STEER ATTACHMENT
With a 50,000-pound digging chain on models that can trench depths from 24 to 60 inches, CE Attachments skid steer trencher attachments come in widths from 6 to 12 inches. Each trencher has a removable, double-flighted spoil auger, a self-aligning boom, sealed tapered roller bearings and high operating pressure capacity. Manual side shift is standard on all trenchers, with optional hydraulic-side shift. Other options include various digging chains for trenching in loose soil to hard, rocky conditions.
visit EquipmentWorld.com/info
SINGLE-HANDED CONTROL
Featuring a compact design, Little Beaver's Kwik-Trench KT200B and KT2400B mini-trenchers get into tight areas unreachable to full-sized trenchers. Powered by 5.5- and 8-horsepower Honda engines respectively, the KT200B and KT2400B trench up to 30 feet per minute and can be used in installations of plumbing and drainage lines, low-voltage wiring, slit fences and sprinkler systems. Featuring carbide-tipped teeth and a powerful drive system that achieves rotation speeds up to 800 rpm, these mini-trenchers are able to cut through tough surfaces such as compacted clay, road fill, asphalt and tree roots up to 10 inches thick. The KT200 produces trenches between 1 and 3 inches wide at depths up to 8 inches deep while the KT2400 produces trenches between 1 and 4 inches wide and up to 1 foot deep.
Visit EquipmentWorld.com/info