After you establish contact with editors, research what opportunities are available in both print and on the web.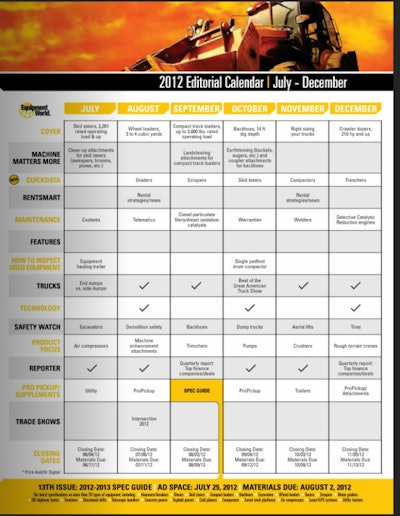 The easiest way to know what's on the print docket is to look at a publication's editorial calendar. This is our planning document for the year. For example, by looking at Equipment World's August calendar, you can see we'll be covering wheel loaders, graders, rental strategies and news, telematics, trucks, technology and machine enhancement attachments. If you make and products and services that involve these topics, it could be a great opportunity to get some print.
But also realize opportunities for press these days extend far beyond what may be available in print. Our websites need constant, daily feeding, and could be your best bet in getting more press. We're always on the look out for maintenance, safety and operating tips, or contractor stories on how they're efficiently and productively using a piece of equipment. (Make it heavy on information, light on product promotion.) Contact an editor (remember tip number one) and tell him or her what information you're interested in providing.
Questions? Just ask.