Our 11 categories of attachments are designed to help you zero in on what it will take to help you complete whatever the task at hand. Whether you're going to rip, shred, break, crush, cut, dig, grab, grind, move, measure, mulch, flatten, sweep or control, there's an attachment that's perfect for the job.
CLEANUP
Tackle wet, heavy snow with Pro-Tech's rubber-edged Sno Pusher containment plow, which features a rubber edge to squeegee the surface clean.
• Attaches to any loader, backhoe or skid steer
• Features tear-resistant rubber and a 2,000-psi tensile strength
• Plow has no moving parts to minimize maintenance.
Visit EquipmentWorld.com/info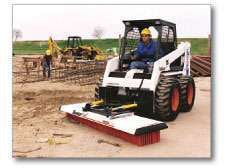 BROOM USEFUL FOR VARIETY OF MATERIAL
Handle dirt, leaves, snow, material spills, standing water and more with the SweepEx Mega 600 broom attachment, which has a 60-inch-long mainframe.
• Durable polypropylene brush minimizes dust and flying debris
• 11 brush rows maximize cleaning power
• 9- and 18-inch extenders available.
Visit EquipmentWorld.com/info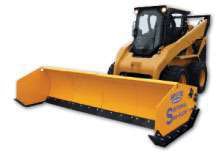 PLOW HAS INDEPENDENTLY MOVING SECTIONS
Arctic Snow and Ice Control Products' Sectional
Sno-Plow's LD model fits backhoes, skid steers, compact loaders and tractors.
• Steel moldboard composed of 32-inch-wide individual sections with spring-loaded trip edges
• AR-400 hardened steel edge ensures one-pass removal
• Available in 8-, 10-, 12- and 14-foot lengths with pushing capacities from 10 to 19 yards.
Visit EquipmentWorld.com/info
Reduce visible dust while sweeping with the Sweepster CS high dump collector sweeper with a vacuum dust abatement system.
• High volume fan filters dust as small as 10 micron
• Four casters and parallel linkage suspension enables the sweeper to follow ground contours
• Hydraulic dump features allows disposal of debris into containers at maximum lift height.
Visit EquipmentWorld.com/info
Move up to 21 cubic yards of snow at once without leaving windrows with the FFC Snow Push, which also handles waste water and more.
• Widths from 6 to 16 feet
• Optional Pull-Back Kit draws snow away from confined areas for more effective removal
• Attaches to skid steers, backhoes, compact wheel loaders and wheel loaders.
Visit EquipmentWorld.com/info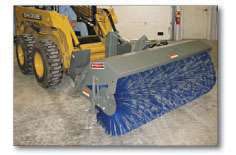 VARIABLE CONTROL VALVE ADJUSTS BROOM SPEED
Designed for skid steers, Worksaver's SSMB Series mounted rotary broom is available in 5-, 6- and 7-foot widths in poly and poly or wire.
• Height adjustment chains ensure even operating position
• Parking stands and a manual or hydraulic angle kit is included
• Optional electric solenoid kits available.
Visit EquipmentWorld.com/info
COMPACTION
Felco's vibratory compaction bucket allows you to experience the versatility of a bucket combined with the compaction performance of a vibratory plate.
• Dig, place and compact with one attachment
• Features flow control valve
• Useful for compacting granular material.
Visit EquipmentWorld.com/info
Compact freshly graded surfaces with Handy Hitch's Broons eCombi roller, which has a steel roll drum or single row of smooth tread tires.
• Steel fabricated reinforced heavy duty frame
• Sealed components protect against dirt and dust and simplify maintenance
• The operator controls the change from drum to tires hydraulically from the cab.
Visit EquipmentWorld.com/info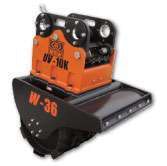 REDESIGNED VIBRATORY WHEEL OFFERS REDUCED MAINTENANCE
Boost productivity with MBW's W36 boom-mounted vibratory wheel, which mounts to the boom or the bucket.
• 36-inch working width wheel designed for 18,000- to 60,000-pound excavators
• Redesigned frame supports the wheel at both ends to reduce stress
• Suspension system protects isolators from damage due to overdeflection.
Visit EquipmentWorld.com/info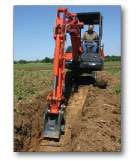 PLATE DELIVERS MAXIMUM FORCE ON BACKFILL LIFTS UP TO 4 FEET
Easily pack loose soil with the Edge plate compactor from CEAttachments, designed for compact excavators or backhoes up to 5,300 pounds.
• Base plate widths from 12 inches to 12 inches
• Vibratory force ranges from 3,000 to 6,500 pounds
• Four-corner suspension system reduces wear and tear.
Visit EquipmentWorld.com/info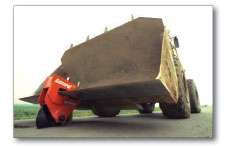 ASPHALT SAW ATTACHES EASILY TO BUCKET
Perform a wide range of asphalt cutting projects with General Equipment's 190C Cut-R-Tach rotary asphalt saw, which clamps directly onto the bucket without special tools or modifications.
• Has a 19-inch-diameter cutting blade with a 5 1/2-inch maximum cutting depth
• Handles 50,000 pounds of downward force and cuts 6,000 lineal feet per hour
• Blade has a life expectancy of more than 25,000 lineal feet.
Visit EquipmentWorld.com/info
CONCRETE/ASPHALT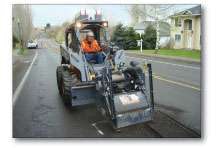 SKID STEER PLANER COMPLETELY SELF CONTAINED
Turn your skid steer into a planer with RoadHog's self-contained planer attachment.
• Has 49-horsepower air cooled Deutz diesel engine; requires no hydraulic or electrical connections
• Features a 6-inch cutting depth and 18- or 24-inch cutting widths
• Has hydraulic tilt, depth and sideshift control.
Visit EquipmentWorld.com/info
Kenco's Slab Crab turns concrete slab removal into a one man job.
• Accommodates 4- to 20-inch-thick concrete slabs
• Available for 5,000- to 150,000-pound excavators, as well as skid steers and backhoes
• Direct pin-on or accepts the Kenco WedgeBolt coupler system.
Visit EquipmentWorld.com/info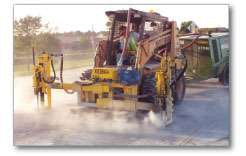 CONCRETE DRILL HANDLES VARIETY OF APPLICATIONS
E-Z Drill's Model 210 Twin Vertical concrete drill attachment contains two adjustable vertical drills for pulling patches, slab-jacking and under sealing.
• Completely pneumatic unit eliminates the need for electric or hydraulic hookup
• Drills holes between 3/4 and 2 1/2 inches in diameter
• 17-inch maximum drill depth with minimum 260 cfm required for operation.
Visit EquipmentWorld.com/info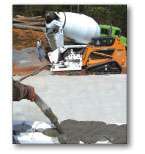 PUMP ATTACHMENT COMPATIBLE WITH ANY SKID STEER
Blastcrete Equipment's Model RD6536 skid steer pump attachment is useful for ICF, block fill, form and pour, shotcrete applications and more.
• Pumps grout materials, 3/8-inch shotcrete and 3/4-inch structural concrete mixes
• Variable speed of 0 to 25 cubic yards per hour
• 50-foot vertical pumping distance with rubber delivery line and 250-foot horizontal distance.
Visit EquipmentWorld.com/info
COUPLERS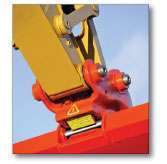 COUPLER FITS BACKHOES, EXCAVATORS
The JRB PowerLatch quick coupler features an Automatic Blocking System that uses mechanical locks independent of the machine's hydraulics on front and rear pins.
• Maintains coupler engagement even if hydraulic failure occurs
• Lightweight and strong with minimal offset
• Wear indicators on rear horseshoe and hook show when coupler needs servicing.
Visit EquipmentWorld.com/info
Quickly switch attachments with Werk-Brau's loader couplers.
• Heavy duty construction for wear and corrosion resistance
• Works with all like attachment connections
• Hydraulic kits available.
Visit EquipmentWorld.com/info
DEMOLITION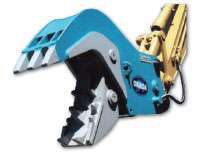 CRUSHER HANDLES TOUGH MATERIAL
Choose from five sizes with Okada America's line of OSC crushers.
• Features powerful crushing and rebar cutting capabilities
• Internal speed valve and oversized crushing cylinder speeds cycle time
• Available for carriers from 6.5 to 50 tons.
Visit EquipmentWorld.com/info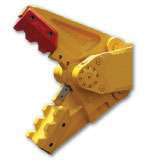 TRANSFORM MT SERIES TO RAIL BREAKER
Process heavy rail with Allied-Gator's MT Rail Breaker tooth segment, which bolts to the MT Cracker/Crusher Jaw Set in just minutes.
• Cleanly removes concrete or asphalt that is bonded to the rail
• Processes rail to any length at a rate of 6 to 8 breaks per minute
• Provides rail handling, sorting and positioning abilities.
Visit EquipmentWorld.com/info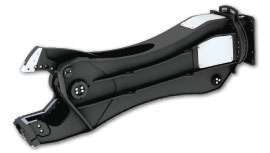 SPEED DEMO WITH REDESIGNED SHEAR
VTN Rotobec's CI hydraulic steel shears feature a redesign, including improvements in the shear structure.
• A weight reduction enables the shear to fit a wider range of carrier sizes
• Can dismantle steel buildings when equipped with a rotation feature
• Rotations equipped with a rotation brake that helps the shear remain in position in high demolition operations.
Visit EquipmentWorld.com/info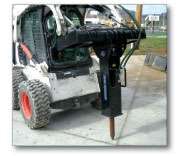 ECONOMICAL HAMMER FEATURES QUIET OPERATION
Simplify maintenance with Blue Diamond Attachments' hydraulic hammer, which features few moving parts and can be rebuilt to as-new specs.
• Manufactured from solid bar stock engineering grade steel
• Gas-assist design has low hydraulic flow requirements and saves on fuel
• Vibra-silencing technology ensures quiet operation and improves operator comfort.
Visit EquipmentWorld.com/info
Caterpillar's E Series hammers are designed for use with the Cat 311 through 336 tracked and wheeled excavators, as well as the 450E backhoe loader.
• Symmetrical housing design allows 180-degree rotation to compensate for wear
• Lower portion incorporates "rock edges" that add protection in abusive applications
• Features include automatic shutoff, external pressure control valve and sound suppression.
Visit EquipmentWorld.com/info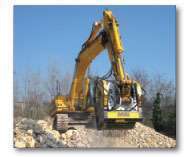 CRUSHER BUCKET SIMPLIFIES MATERIAL REMOVAL
Handle demolition and debris removal with the crusher bucket from MB Crusher.
• Reduces costs related to material disposal
• Easy to transport and offers inexpensive maintenance
• Lower dust and noise levels compared with traditional crushers.
Visit EquipmentWorld.com/info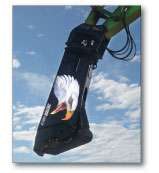 REDESIGNED SHEAR FEATURES POWER INCREASE
Increase shearing capacity with the Eagle Shear II from Breaker Technology, which features rhomboid shaped cutting teeth.
• 360-degree continuous rotation ensures precision shearing
• 20-percent increase in power compared to previous models
• Speed valve system increases responsiveness.
Visit EquipmentWorld.com/info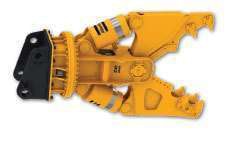 ATTACHMENT PERFORMS HEAVY DEMOLITION
Atlas Copco's CombiCutter 6000 is available with universal or steel cutting jaws, and is designed for heavy duty industrial, bridge and building demolition work.
• 14,330-pound attachment fits 127,870- to 187,390-pound carriers
• Central main pin reduces time needed to change cutter jaws by 75 percent
• Single- and double-blade jaw arm combination ensures stability under extreme loads.
Visit EquipmentWorld.com/info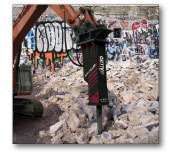 TOUGH HAMMER HANDLES CONCRETE AND MORE
The Hy-Ram HR Series hammer from Allied Construction Products is designed for demolition of concrete structures, trench rock, building foundations, pavement and bridge decks.
• Oil and gas operation increases efficiency
• Longer piston stroke delivers high impact power
• Auto-stop system prevents blank firing.
Visit EquipmentWorld.com/info
EARTHMOVING
WHEEL LOADER BUCKET BOOSTS VERSATILITY
Perform a range of load-and-carry jobs with Doosan's multipurpose buckets, which also enable dozing, leveling, spreading and filling.
• Five models available; 100.5- to 120-inch widths and 2.5- to 4-cubic-yard capacities
• Features pin-on or quick coupler mount and choice of bolt-on cutting edge or bolt-on teeth
• Reinforced mounting points extend service life.
Visit EquipmentWorld.com/info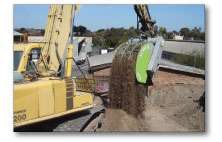 BUCKET DIGS AND SCREENS MATERIAL
Flip Screen Australia's EX80 screening bucket adds versatility by also allowing digging at full breakout force.
• Designed for 20- to 27-metric-ton excavators and has a capacity of 1 cubic yard
• Rotates continuously on a horizontal axis through 360 degrees
• Mesh screens in sizes from 1/2 to 4 inches; baffle retains larger material for dumping.
Visit EquipmentWorld.com/info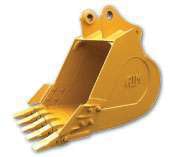 EXCAVATOR BUCKET FEATURES OPEN DESIGN
AIM Attachments' HD60 excavator bucket, designed for general excavation and site prep, is available in heavy duty and severe duty configurations, and has an open design for easy clean out.
• Features AR400 steel cutting edges and side cutters
• Designed for 40,000- to 60,000-pound carriers
• Has standard thick horizontal wear straps, full curve side wear straps and lifting D rings.
Visit EquipmentWorld.com/info
SINGLE SHANK IMPROVES RIPPING POWER
Boost ripping power with the Super Heavy-Duty Single Shank Ripper from Vail Products, which fits 160- to 200-horsepower dozers.
• Single shank design provides greater penetration
• 30-percent heavier toolbar than previous models
• Large pins for extended life.
Visit EquipmentWorld.com/info
Suitable for a range of applications, Caterpillar's multipurpose bucket is useful in material handling, dozing, clamping, grading, leveling and more.
• Gripping surface handles all types of material
• Bolt-on cutting edge enables quick change flexibility
• Spill guard keeps the load in the bucket.
Visit EquipmentWorld.com/info
SCREENING BUCKET OFFERS STRONG WEAR RESISTANCE
Process soil, sand, demolition waste and more with Allu's D-Series screening bucket, which fits wheel loaders, excavators, backhoes and skid steers.
• Produces 5/8- or 1-inch size material
• Features a new, stronger frame and outer bucket shell
• Useful for roadside screening and on rugged terrain.
Visit EquipmentWorld.com/info
Danuser's Wobble Auger produces a hole with no loose dirt in the bottom or around the top of the hole.
• Standard 4-foot length; 4-, 6- and 9-inch diameters available
• Useful when digging in dirt, sand, clay, asphalt and compacted rock
• No labor is required to remove the dirt.
Visit EquipmentWorld.com/info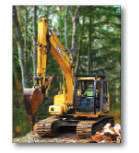 RIP AND SCOOP WITH SINGLE ATTACHMENT
Rip rock, coral or frozen ground with Leading Edge Attachments' Single Pointed Ripper Bucket.
• Ripper/bucket combination rips a clean V trench while scooping and loading material
• Also useful for prying and carrying stumps and boulders
• Hardox 400 steel slab construction ensures durability.
Visit EquipmentWorld.com/info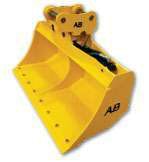 SWIVEL BUCKET ENSURES QUICK WORK
Dig, clean ditches, load, grade and more with Ajusta-Buckets' line of hydraulic swivel buckets.
• Buckets tilt 45 degrees left or right for faster operation and better finished grades
• Large double-acting cylinder for smooth, reliable power
• Hydraulic swivel operates on standard pressure and requires minimal hydraulic volume.
Visit EquipmentWorld.com/info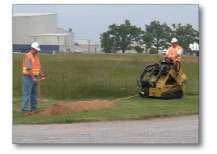 BORING ATTACHMENT USES DRY COMPACTION METHOD
Produce 4 1/2-inch-diameter tunnels with McLaughlin's M-4500 series hydraulic boring attachment.
• Uses the dry compaction or slurry boring method of drilling
• Delivers 8 feet per minute speeds and distances of 200 feet
• Attaches to the backfill bucket or via a quick attach plate to skid steer or mini-skid.
Visit EquipmentWorld.com/info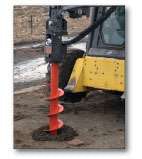 AUGER HANDLES HEAVY DUTY DRILLING
Pengo's TriMax auger is designed for use on skid steers, backhoes and compact excavators.
• TriFlow pilot bit has three drill points for better stability
• Useful in heavy duty drilling conditions
• Fas-N-Lok teeth provide increased projection on the outside, and increased penetration on the inside.
Visit EquipmentWorld.com/info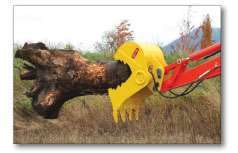 ONE ATTACHMENT HANDLES MULTIPLE JOBS
Helac's PowerGrip 4-in-1 multipurpose bucket handles trenching and grading, and can be used as a clamshell bucket, grapple or hydraulic thumb.
• Full trenching bucket profile has no obstructing crossbars inside the shell or jaw
• Jaw opens independently of the curl cylinder to 120 degrees
• Available for backhoes and excavators to 45,000 pounds.
Visit EquipmentWorld.com/info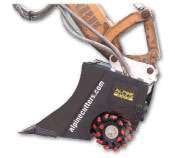 CUTTER BUCKET SIMPLIFIES EXCAVATION
Lower the cost of excavation with Alpine's Cutter Bucket, which fits excavators of any size.
• Excavates wider and deeper than trenchers
• Produces low noise and vibration
• Also handles frozen ground and stump cutting.
Visit EquipmentWorld.com/info
LANDCLEARING
Clear dense brush in difficult terrain with Terex's PT-100G Forestry compact track loader equipped with an HD7460B mulcher.
• Drum style mulcher has 60-inch cutting width, spiral configuration and 45 teeth
• Compact cutter housing improves balance and weight distribution
• 110-cc two-speed drive system uses poly-chain cog belt for efficient power transfer.
Visit EquipmentWorld.com/info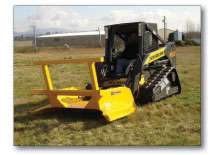 ROTARY CUTTER FITS MOST SKID STEERS
Cut up to 8-inch soft wood with US Mower's QA72 rotary skid steer mower.
• Features 12 inches more cutting width than the previous model
• Requires 25 to 40 gpm; has reversible 12-pound blades
• Includes universal skid steer mount.
Visit EquipmentWorld.com/info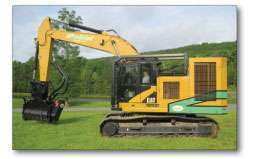 GRINDER TACKLES TREES AND STUMPS
Clear right-of-ways with ProGrind Systems' excavator-mounted grinder, which handles trees, brush and stumps.
• 24-inch-diameter by 51-inch-long cutter drum has 28 double sided carbide tipped teeth
• Grinder head is manufactured from T1 plate and is available with a rotator
• Suitable for 25-ton and larger excavators.
Visit EquipmentWorld.com/info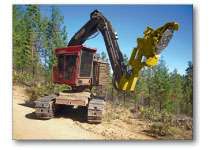 IMPROVE MULCHING WITH DURABLE DISC
Boost performance with the Super Mulching Disc from Pro Mac, which produces fine mulch.
• 52-inch disc uses 12 outer quad-style bits and 96 reversible upper and lower bits
• One-piece main shaft and bearing housing improves durability
• Custom mounting brackets allow for easy upgrade from existing cutter.
Visit EquipmentWorld.com/info
Hoelscher Commercial Products' HedgeHog pulls trees, posts and vines from 1/4 to 8 inches in diameter.
• Mounts to any loader with skid-steer style mounting bracket
• Beveled, tapered tines grip the object to be removed
• Also handles thorny bushes and shrubs.
Visit EquipmentWorld.com/info
Streamline trimming applications with the Loftness Kwik Trim compact trimming saw.
• Useful for small or congested sites
• Has 53-foot reach with 24-inch diameter carbide blade
• Hydraulically driven and turns at 3,000 rpm.
Visit EquipmentWorld.com/info
Sneller Machines' self-powered brush shredder and tree removal attachment requires no modifications to your carrier.
• 60-, 170- and 275-horsepower models that fit an excavator or compact track loader
• Triple sealed bearings ensure low maintenance
• Carbide cutting bits provide powerful performance.
Visit EquipmentWorld.com/info
Perform a range of landclearing tasks with FAE USA's 300/S multipurpose front attachment, designed for FAE's Prime Tech line.
• Mulches stumps and grinds trees and underbrush
• Can be used for road stabilization and asphalt grinding
• Works to a depth of 16 inches below grade; working width from 76 to 99 inches.
Visit EquipmentWorld.com/info
Handle landclearing and right-of-way maintenance with Ryan's Equipment's 16-inch shear.
• Designed for 80-horsepower and above carriers; minimum 30-gpm flow rate
• Features standard grabber, accumulator arm and diverter valve
• Has one fixed and one moveable knife made of AR400 high tensile strength steel.
Visit EquipmentWorld.com/info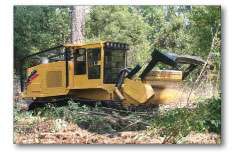 FORESTRY MULCHER FEATURES DOUBLE DRIVE
Grind wood up to 16 inches in diameter with the Starforst forestry mulcher from Seppi M.
• Available in a hydraulic version and with an articulated 3-point linkage for PTO tractors
• Rotor has tungsten-tipped fixed knives
• 79-, 89- or 98-inch working widths.
Visit EquipmentWorld.com/info
LANDSCAPING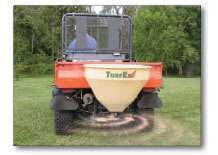 SPREADER ENSURES EVEN DISTRIBUTION
Evenly distribute seed and fertilizer with TurfEx's commercial duty spreader attachment, which mounts on a range of carriers.
• Six electric or PTO driven models with 3-, 7- and 12-cubic-foot material capacities
• Weather resistant variable speed controller standard on most models
• Also useful for spreading ice melt in winter maintenance applications.
Visit EquipmentWorld.com/info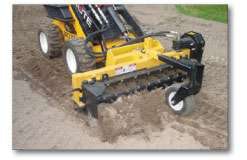 RAKE PREPARES SEEDBED SURFACES
Remove debris or sod with the Piranha Power Landscape Rake from SitePro.
• Useful for lawn renovation or to pulverize or set grade on new construction sites
• Carbide or sabre tooth rotor and material control bar ensure productivity
• Features include flip-up end plates and flip-up gauge wheels.
Visit EquipmentWorld.com/info
LIFTING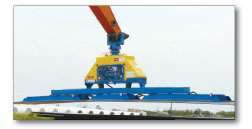 SIMPLIFY LIFTING WITH CUSTOMIZABLE ATTACHMENT
Lift pipe, plate or slab with the RC20 from Vacuworx.
• Features 44,000-pound lifting capacity
• Handles steel, plastic, cast iron and more, with coating or uneven surfaces
• Attaches to a range of carriers including excavators, loaders, pipe layers and forklifts.
Visit EquipmentWorld.com/info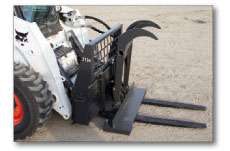 GRAPPLE HELPS GRIP LOADS WHEN LIFTING
CJJ's pallet fork grapple attachment allows the operator to clamp down on loads to stabilize them.
• 1/2-inch A36 steel tines
• Tine spacing of 17 1/2 inches with 40-inch open tine height
• Grapple measures 15 inches high, 45 inches wide and 40 inches long.
Visit EquipmentWorld.com/info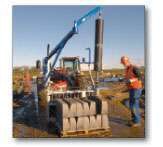 VERSATILE LIFTER HANDLES RANGE OF MATERIALS
Lift concrete slabs, pavers or curb with Al-Vac's Flex 1600/3500, which also handles other non- or semi-porous material.
• Pallet forks are mounted on the front of the unit to carry material
• Attaches to loaders, telehandlers, trailers or trucks
• Two models lift 352 and 770 pounds, respectively.
Visit EquipmentWorld.com/info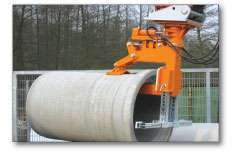 MOVE AND PLACE PIPE WITH EXCAVATOR MOUNTED ATTACHMENT
The RLP excavator mounted pipe layer from EZ Grout attaches via the standard quick change system and transports, position, and connects bell-shaped pipe.
• Hydraulic clamp for added safety during long transports
• Handles 12- to 40-inch-diameter pipe; 6,600-pound capacity
• Can be used for picking and placement or to unload a truck.
Visit EquipmentWorld.com/info
MACHINE ENHANCEMENTS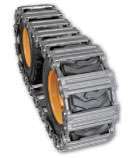 STEEL HARD TRACKS BOOST TRACTION
Achieve a smoother ride over uneven ground with Grouser Products' FX Series Over-The-Tire Hard Track.
• Easy-to-install tracks offer a 50-percent reduction in ground pressure
• Extra weight lowers skid steer's center of gravity for improved handling
• Tracks have a "run-loose" design, are self-cleaning and deliver maximum traction.
Visit EquipmentWorld.com/info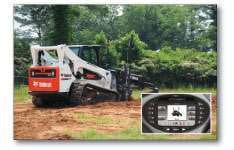 IMPROVE GRADE ACCURACY WITH LASER RECEIVER
Make changes to the grade from inside the cab with Bobcat's BLR2 laser receiver, which connects seamlessly to the track loader's instrumentation panel.
• In-cab instrumentation panel informs operator how much material to add or remove
• Grade can be moved in 0.1-inch increments
• Available on 600, 700 and 800 M-Series compact track loaders.
Visit EquipmentWorld.com/info
Achieve precise grade control for digging a fixed depth or a slope with AGL's EZ Dig Pro real-time depth control system, which eliminates the need for an additional person to check depth.
• Can be installed and calibrated by any operator in 45 minutes; no welding required
• Includes laser receiver, eliminating need to reset elevation reference
• In-cab LCD control box and see-through display pane enables operator to watch ditch, bucket and display.
Visit EquipmentWorld.com/info
Handle utility work safely with Diversified Products' Quick Attach Man Basket specifically designed for use on service cranes.
• Yoke-style basket has universal mounting bracket and stores on the service body
• Features inward opening doors and 30-inch-wide by 30-inch-deep full size floor
• Has floor slots to drain water, upset holes to prevent slippage and high capacity caliper brake.
Visit EquipmentWorld.com/info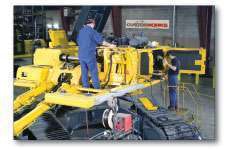 MACHINE MODIFICATIONS TO SUIT YOUR NEEDS
Modify your dozers, dump trucks, excavators, backhoes, skid steers and wheel loaders to suit your needs with CustomWorks.
• Includes cab and machine guarding, theft protection, component protection and other specialty enhancements
• Useful for current or newly purchased equipment
• Modifications made at custom facility or at a dealership.
Visit EquipmentWorld.com/info
Boost productivity with Topcon Positioning Systems' 3D-MC2 system for motor graders, which enables corrections up to 100 times per second.
• Delivers smoothness and grading accuracy combined with speed
• Pitch compensation enables the operator to roll the blade to adjust the cutting edge
• Compatible with all of Topcon's existing sensor technology.
Visit EquipmentWorld.com/info
Allow your vehicle to stay locked in four-wheel-drive with Mattracks' Sprositive Drive option for ATVs and UTVs.
• Designed to compensate for mismatched ratios from over running front differentials
• Eliminates the slack in the front sprocket pitch while changing pitch ratio in rear
• Available for Polaris, John Deere, Club Car, Bobcat, Cub Cadet and more.
Visit EquipmentWorld.com/info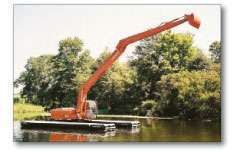 AMPHIBIOUS UNDERCARRIAGE ALLOWS DIGGING WHILE FLOATING
Add pontoons to your excavator with Wetland Equipment's Amphibious Undercarriage.
• Suitable for all makes including Caterpillar, Case, John Deere, Komatsu, Volvo and more
• Reserve buoyancy factor of 20 percent ensures 360-degree digging while floating
• Benefits include good turning and climbing ability, low ground pressure and amphibious stability.
Visit EquipmentWorld.com/info
Handle different types of loads without leaving the cab with JLG's Dual Fork Positioning Carriage, which allows for independent adjustment of each fork.
• 50-inch carriage; 10,000-pound capacity
• 2- by 4- by 48-inch forks
• Available on JLG, SkyTrak and Lull telehandlers.
Visit EquipmentWorld.com/info
MISCELLANEOUS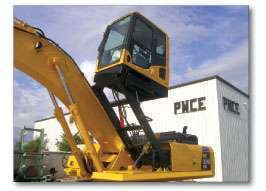 CAB RISER WORKS ON ANY MACHINE
Lift the operator 6 to 8 feet with the Hydraulic Cab Riser from Paul Wever Construction Equipment.
• Allows the operator a better view of the jobsite
• Adaptable for all machines; compatible with variety of attachments
• Cab angle tilts 45 degrees front to back for better visibility in front of the tracks.
Visit EquipmentWorld.com/info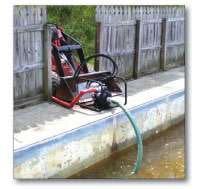 PUMP DELIVERS CONSISTENT PERFORMANCE
TrunkPump's TP-HYD2 and TP-HYD3 hydraulically driven pumps feature a priority flow manifold that directs the proper flow to the unit.
• Includes 8-foot supply hoses and flush face couplers
• 2- and 3-inch dewatering units move 240 and 280 gpm, respectively
• Tubular steel roll cage is compact, lightweight and sturdy.
Visit EquipmentWorld.com/info
Simplify road shoulder repair projects with HTC's Model 1218 leveling assembly.
• Apply and level material in a single step
• Mounts to existing Hydraulic Truck Conveyor
• Manual or hydraulic operating systems.
Visit EquipmentWorld.com/info