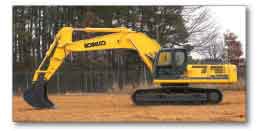 When a show only occurs every three years, it's likely to be jam-packed with introductions such as the products featured here. CONEXPO-CON/AGG 2011 proved true to the norm.
LOTS OF OPTIONS
Kobelco Construction Machinery America unveiled three Mark 9 excavators at the show; the 181-horsepower SK260-9, the 197-horsepower SK295-9 and the 269-horsepower SK350-9. Operating weights for the excavators range from 59,524 to 80,909 pounds, with dig depths from between 23 feet and 24 feet 10 inches. The excavators offer Kobelco's Intelligent Total Control System, which provides improved controllability in multifunction applications. A new Economy mode uses the ITCS system to deliver an average 10-percent increase in fuel efficiency over previous models. The Tier 4 Interim units use a selective catalytic reduction emissions solution. Safety features include a rear-view camera with a color monitor, rear work lamps and swing flashers. Grade control systems from Leica, Topcon and Trimble are also available. Choose from several configurations, including a long-reach model with a reach of more than 60 feet. Also offered: standard, high and wide and heavy-duty undercarriage options.
Visit EquipmentWorld.com/info
ONE-PASS PERFORMANCE
Detect utilities to depths of 19.7 feet with Ditch Witch's 2450GR Ground Penetrating Radar, which locates both metallic and non-metallic pipes in rock, soil and pavement. Using radar pulses to provide subsurface images, the 2450GPR delivers clear images with a 5.6-mph survey speed. A dual frequency earth-engaged antenna maintains signal strength on uneven surfaces as it sweeps in two frequencies for one-pass location. The unit features a four-wheel cart, 14-inch wheels and is foldable for easy transport.
Visit EquipmentWorld.com/info
EDITOR'S PICK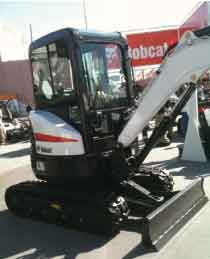 SMALL TAIL SWING
Bobcat launched a new addition to the M Series line at CONEXPO-CON/AGG, the E26 minimal tail swing compact excavator. Production will begin in early August for the unit, which replaces both the 325 conventional tail swing and 425 zero tail swing models. The E26 has 0.08 inches of overhang, an overall width of 59 inches, weighs 5,690 pounds and is powered by a Tier 4 Interim compliant 27-horsepower Kubota engine. With a standard arm configuration, the E26 reaches dig depths of 8 feet 6 inches; with an optional long arm configuration the dig depth is 9 foot 6 inches. Features also include an auto-idle which activates after four seconds, fingertip boom swing controls and air conditioning.
Visit EquipmentWorld.com/info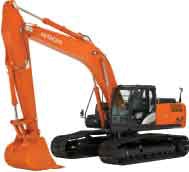 DASH-5 DEBUT
Boost productivity with Hitachi's Zaxis Dash-5 excavators, which feature a Tier 4 Interim cooled EGR engine platform for reliability and fuel efficiency. Three models, the ZX250LC-5, ZX290LC-5 and the ZX350LC-5 made their debut at the show, while other models are set to roll out this summer. The Dash-5 line features optimized hydraulics to improve arm and bucket digging force, lift capacity, swing speed and torque, hydraulic flow, engine horsepower and drawbar pull. A new DOC/DPF exhaust filter has a

5,000-hour service life and does not need daily checks.
Visit EquipmentWorld.com/info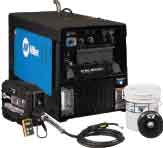 ALL-INCLUSIVE
Miller Electric's Big Blue 350 PipePro, an integrated pipeline welding system, produces reliable arcs in Stick, MIG and Flux Cored welding when working with high strength steels. Developed with Hobart Brothers and Bernard, the system includes a diesel engine driven welder/AC generator that delivers 20 to 400 amps for DC Stick and DC TIG welding, 14 to 40 volts for MIG and Flux Cored welding and 10,000 watts continuous auxiliary generator power to run tools. The system also includes Miller's wireless remote hand control, Hobart Brothers' Fabshield 79T8 shelf-shielded flux-cored tubular wire, Miller's SuitCase X-Treme 8 HD wire feeder and Bernard's PipePro Dura-Flux gun.
Visit EquipmentWorld.com/info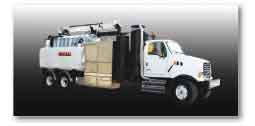 WATER SAVER
Excavate efficiently around water, sewer, gas and utility lines with Vacall's AllExcavate hydro excavator, which features a high pressure water system to reduce water usage to minimize refill time. Available with 10-, 15- and 20-gpm water pumps with 3,000 to 3,500 psi, the machine breaks up material with a wand that delivers a high pressure stream. The AllSmartFlow Can Bus intelligent control system monitors engine, flow and vacuum performance via a programmable LCD display, which also enables precise boom and reel adjustments. The water system, wand and control panel are housed within a heated compartment for protection from the elements. The AllExcavate also has an 8-foot 6-inch telescoping boom with a 320-degree radius to load debris.
Visit EquipmentWorld.com/info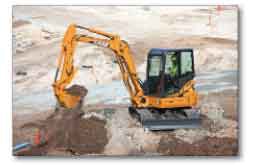 COMPACT PERFORMANCE
Case Construction Equipment expanded its compact excavator line at CONEXPO-CON/AGG with the launch of the CX55B minimum tail swing model, which rotates 360 degrees with 11.7 inches of the upper structure extending beyond the tracks. Designed for a range of utility and commercial applications, the CX55B features a 39.3-horsepower engine, a 12-foot 10-inch dig depth and 11,240 pound-feet of bucket digging force. The unit's 12,295-pound weight and 8-foot 4-inch cab height makes trailering simple. The machine includes factory-installed hydraulics, an attachment bracket and a standard dozer blade with 38-degree approach angle. Choose from rubber or steel tracks for the CX55B.
Visit EquipmentWorld.com/info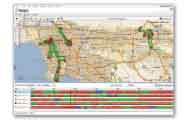 FUNCTIONAL FLEET MANAGEMENT
Reduce idle times and emissions while streamlining operations with Telogis' telematics pre-wire option for Freightliner Business Class M2, 108SD and 114SD vocational trucks. The pre-wire option allows upfit of Telogis Fleet, a GPS-based fleet management system and Telogis Route, a route planning, optimization and scheduling system. Useful for utilities and construction applications, the pre-wire option allows for the integration of planning and operational data, field variables and location based intelligence while providing data in real time, weekly, monthly or annually.
Visit EquipmentWorld.com/info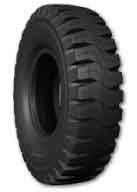 ENHANCE STABILITY
Improve stability and ride with the V-Steel Rock E-Premium off-road tire from Bridgestone Americas Off Road Tire, designed for 100-ton-class earthmovers. The tire's trapezoidal blocks have circumferential grooves to boost wear resistance while decreasing internal friction and promoting even wear. A two-stage lug design absorbs energy from shifting blocks to reduce wear. The VREP is available in size 27.00R49. The company also expanded their V-Steel J-Traction radial off road tire line, and has launched two new sizes – 17.5R25 and 29.5R25.
Visit EquipmentWorld.com/info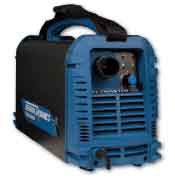 QUICK CHANGE
Experience flexibility when plasma cutting with the Thermal Dynamics Cutmaster 42 handheld plasma cutter from Thermadyne Industries, which enables the operator to switch from 208- to 230-volt power to 120-volt power by connecting one of two adaptor pigtails supplied with the cutting system. Useful for light construction, rental fleets and field fabrication, the Cutmaster 42 weighs just 26 pounds and delivers a ¼-inch recommended cut or 5/8-inch maximum cut on mild steel. Vent2Shield technology enables the use of smaller compressors, requiring 3.2 cfm at 75 psi. The unit also features an Auto Pilot Restart, and the system comes with gloves, glasses, an SL40 plasma torch and a carrying case.
Visit EquipmentWorld.com/info
Check out our digital edition at www.equipmentworld.com/digital for even more show introductions. Additional products from the show will be featured in our June issue.