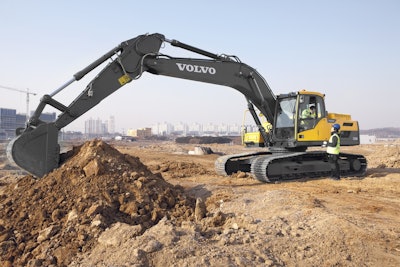 Volvo Construction Equipment expanded on its CONEXPO-CON/AGG 2011 introductions, highlighting several machines in its extensive product offerings at its Volvo Days event in Sweden at the end of May.
Front and center was its Tier 4 Interim engines. "The only thing customers will notice on these engines is the required diesel particulate filter change after 4,500 hours," said Arvid Rinaldo with Volvo.
Products receiving attention included:
* L110G and L120G wheel loaders, designed for applications in heavy infrastructure, quarrying and recycling. The L120G has a 20 percent increase in lifting force, a 5 percent increase in breakout force and up to 5 percent lower fuel consumption in load-and-carry and truck loading applications. Both models are powered by a turbocharged 8-liter, 6-cylinder V-ACT engine that has cooled gas recirculation and an active-type diesel particulate filter. The engine produces between 260 to 268 horsepower. Both loaders will be introduced in North America in the fourth quarter of this year.
*The new EC250D and EC300D excavators weigh up to 28 metric tons and 33 metric tons, respectively. Designed for heavy digging and lifting duties, these machines offer between 9 to 13 percent fuel efficiency improvements from the models they replace. Equipped with Tier 4 Interim Volvo D8H engines, the machines have externally cooled gas re-circulation and an active regeneration diesel particulate filter. Maximum power is 202 horsepower for the EC250D and 227 horsepower for the EC300D. Operators can choose between one of five working modes to tailor the use of fuel to fit the job. An attachment management system stores up to 18 different attachment settings. The machines will be launched in North American in the third quarter.
*F-Series articulated haulers range from the 24 metric ton A24F up to the 39 metric ton A40F. A load sensing closed hydraulic system allows for precise, controlled dumping, shortening cycle times and aiding safety. A Load and Dump Brake can be applied by pressing a button in the cab that applies the service brakes and shifts the transmission into neutral. The machines feature dumping functions — detent body lowering and adjustable tipping angle. Operators can set the maximum tipping angle and the overall height of the body.