By Amy Materson
EDITOR'S PICK
Creature Comforts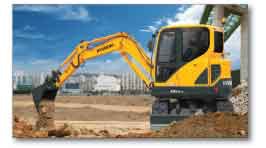 Boost performance with Hyundai's R60CR-9 compact radius excavator, which has a range of features aimed at improving productivity. The 13,010-pound machine's Yanmar 4TNV98 engine delivers 56 net horsepower at 2,400 rpm, and includes heavy duty rings, pistons and bearings manufactured from high strength alloys. An advanced hydraulic system ensures smooth, precise control through improved joystick-to-attachment response time, and an arm-in/boom-down hydraulic flow regeneration system enhances function speed without requiring additional engine power. The CAPO (Computer Aided Power Optimization) system controls engine speed, variable pump flow, boom priority function and all other electric-powered functions, as well as offering two operator power mode selections, three work mode selections and two user mode selections. The system simplifies service by displaying service fault codes on the monitor, and additional service information can be downloaded to an external laptop. The R60CR-9 also has an auto-lubrication system as well as easy access to the filters and service areas. The cab has an adjustable seat and armrests, ergonomic joysticks, 360-degree visibility, a large capacity air conditioner and more.
Visit EquipmentWorld.com/info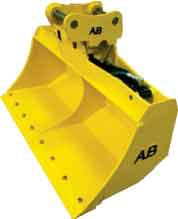 Smooth Swiveling
Perform a variety of applications with Ajusta-Buckets' line of hydraulic swivel buckets, useful for cleaning ditches, loading and grading. The buckets tilt 45 degrees left or right to speed operation and improve the finished grade. A large double-acting cylinder positions and holds the bucket at the correct angle. The swivel requires just standard hydraulic system pressure.
Visit EquipmentWorld.com/info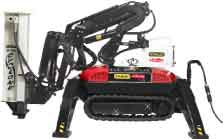 Controlled Demolition
Simplify selective dismantling of concrete slabs, walls and interior structures with Stanley LaBounty's F16 Remote Controlled Demolition Robot. The tracked mid-size machine is electrically driven, weighs 3,417 pounds and operates effectively with 500-foot-pound impact class breakers and 1,500-foot-pound drop hammers. The F16 has self-stabilizing outriggers that automatically raise and lower for balance on uneven surfaces. The unit also has a four-point detachable boom, 360-degree continuous rotation and a telescopic arm with a 16.4-foot reach. The F16 can work in close proximity with additional F16s and other remote controlled devices, due to matched radio frequency between the controller and receiver.
Visit EquipmentWorld.com/info
Improved Efficiency
 Volvo Construction Equipment's F-Series articulated haulers includes four models – the A25F, A30F, A35F and A40F – ranging from 26.5- to 43-ton capacities. The haulers have Tier 4 Interim engines with Volvo Advanced Combustion Technology, delivering high torque for low revolutions for better efficiency and increased engine life. Automatic Traction Control is standard, and longitudinal differential locks are applied automatically. An electrohydraulic dump lever allows you to adjust dump body heights in the cab. The CareTrack telematics system with 36 months of CareTrack service is included.
Visit EquipmentWorld.com/info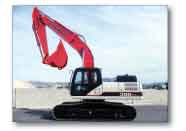 FUEL BOOSTER
Experience improved productivity and serviceability with the Link-Belt X3 Series of excavators from LBX, which offer 10-percent better fuel efficiency when compared to previous models. The X3 Series includes 250-, 300- and 350-class machines, and will expand to include a 250 Long Front and 470-class excavator mid-year. The Tier 4 Interim machines use cooled exhaust gas recirculation. Diesel particulate filter technology eliminates daily maintenance, while a variable geometry turbocharger facilitates clean, efficient combustion.

Visit EquipmentWorld.com/info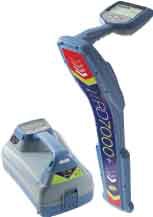 Depth Determination
 Increase accuracy in utility cable and pipe location with Radiodetection's 7000+ Series, which delivers reliable and repeatable measurements. The RD7000+ features Dynamic Overload Protection as an integrated automatic feature, allowing the user to locate accurately in areas with high levels of electromagnetic interference. The units also feature Compass, which determines the orientation of the object, improving depth measurement accuracy and enabling you to easily follow the target line. The units are Centros enabled to boost location accuracy and improve responsiveness.
Visit EquipmentWorld.com/info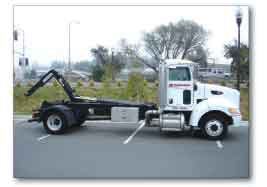 Helpful Hoist
 SwapLoader's SL-185 hoist features an 18,000-pound-capacity and can be used for both dump and lift operations on a 120-inch cab-to-axle chassis. The hoist accommodates 12- to 16-foot body lengths and has an optional dual height adjustable cab that lifts 36- or 54-inch hook-lift ready containers. When outfitted with the Container Variable System option, the SL-185 hoists 10-foot container lengths.
Visit EquipmentWorld.com/info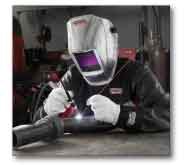 Rugged Protection
Choose from a range of options with Lincoln Electric's personal protection clothing line, Red Line Welding Apparel, which includes gloves, jackets, caps and safety glasses. The line offers five types of gloves – premium leather MIG/stick, traditional MIG/stick, leather TIG, heat resistant and full leather Steel Worker gloves. Red Line jackets have flame retardant cloth panels to keep you cool, with heavy duty leather panels in areas subjected to high spatter exposure or extensive wear. The jackets come in cloth, heavy duty leather or hybrid cloth and leather. The line also includes a variety of products such as caps and beanies to protect the top of the head while keeping you cool.
Visit EquipmentWorld.com/info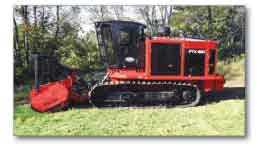 Cut and Clear
Tackle tough material and terrain with Fecon's FTX600 tractor, which handles site prep and right-of-way clearing when paired with either the BH300 or BH350 Bull Hog. The FTX600 features a 600-horsepower Cummins engine that delivers 210 gallons of hydraulic flow to the mulching head, but has just 5.9-psi ground pressure. Fitted with the Bull Hog, the FTX600 delivers 98 inches of cutting height and 32 inches below grade. The tractor also has a large cab that tilts for easy serviceability.
Visit EquipmentWorld.com/info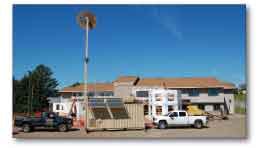 Remote Power
Deliver power to remote locations with X3 Energy's X3-20 Portable Power System, which has integrated a wind turbine, solar cells and an industrial generator to provide continuous power. The power sources charge a bank of 48-volt batteries that produces 20 kilowatts of power through inverters, suitable for operating pumps, machinery and electronics. The Marathon generator has a 27-horsepower John Deere Tier 4, three-cylinder diesel engine that engages automatically if solar and wind resources are limited. An integrated hydraulic system for raising the turbine boom and self-deploying outriggers can be configured to power hydraulic equipment. Larger systems are available and manufactured to order.
Visit EquipmentWorld.com/info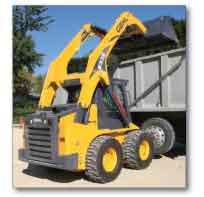 Easy Loading
Ease truck and material loading with the V330 skid-steer loader from Gehl, which has 131 inches of near-vertical lift. The lift arm ensures an unobstructed view to the bucket cutting edge. The V330 has a 3,300-pound rated operating capacity and an 84-horsepower turbo diesel Yanmar engine. Electronic engine control and a foot throttle enable partial throttle operation. The Hydraglide Ride Control System is standard on the skid steer, and the V330 also offers an optional all-new ergonomic cab design with a pressurized sealed cab enclosure and adjustable joystick controls.
Visit EquipmentWorld.com/info