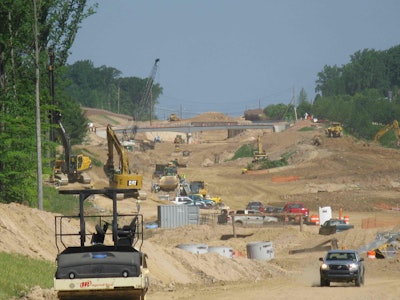 G.A. & F.C.Wagman in York, Pennsylvania, received recognition from the American Road & Transportation Builders Association for their safety programs. Here's how the company upped their safety success.
Promote communication: Maintaining and promoting open lines of communication between the shop and field operations will ensure safe, productive equipment operations, says Carter Dicken, equipment manager.
Avoid complacency: "It is important to avoid thiswhile performing a daily walk-around inspection of your equipment," says Brian Hohenshilt, assistant equipment manager. A thorough inspection every shift will ensure the safe operation of the equipment and help contribute to the prevention of accidents and equipment damage.
Limit access: Limiting public and employee access in areas where heavy equipment is active will reduce the potential for accidents, says Russ Blevins, equipment superintendent.
Make everyone responsible: For a company and its employees to stay safe in the field, everyone needs to be an active part of the safety program,says Mike Pickeral, corporate safety director.
Plan early: Good communication and planning between the supervisor, operator and employees on the ground will raise awareness and keep everyone on the same page. "It's never too early to start planning," Pickeral says.