By Amy Materson
Editor's pick
SAFETY MADE SIMPLE
Keep workers safe when guiding steel trench plates into place with the Trench PlateMate from the Bradley Blume Corporation. As a trench plate is lifted over the trench by a backhoe or excavator, a worker must maneuver the end of the plate into place – usually with their hands or feet – which puts them in close proximity with not only the heavy steel plate, but also with the equipment and with the open trench itself. The Trench PlateMate features a tag line connected to the plate with a magnet, which is then attached to a 4-foot handle, allowing the employee to guide the plate into place from a safe distance. A T-bar handle with custom rubber grips ensures comfortable operation, and a 450-pound magnetic base keeps the PlateMate attached to the plate while it is in motion.
Visit EquipmentWorld.com/info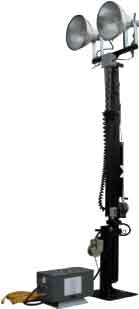 HIGH LIGHTS
Reach 25-foot heights and light large areas with Larson Electronics' Magnalight LM-25 extendable boom for light towers. The two-piece light mast can be used with solar or diesel generators and can mount either metal halide or LED lights. The LM-25 is equipped with a fold-down winch and offers telescoping capabilities. A 12-inch-square, half-inch-thick steel surface plate facilitates mounting securely to any surface.
Visit EquipmentWorld.com/info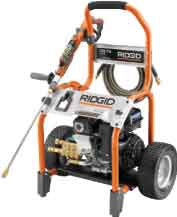 POWER WASH
Ridgid's 3,000- and 3,300-psi professional grade power washers feature Idle-Down, which automatically idles the engine when the operator releases the trigger handle – conserving fuel and reducing noise and emissions while saving wear and tear on the washer.
Visit EquipmentWorld.com/info
Quick specs –
3,000 psi
• Engine: 175-cc Subaru SP170 OHC chain drive
• Pump: Cat Pumps commercial grade model
• GPM: 2.6
• Spray nozzle: Turbo, 0°, 25°, 40° and Dual Soap (Quick Connect)
3,300 psi
• Engine: 211-cc Subaru EX21 OHC Chain Drive
• Pump: Cat Pumps commercial grade model
• GPM: 3.0
• Spray nozzle: Turbo, 0°, 25°, 40° and Dual Soap (Quick Connect)
CONCRETE CUTTER
Tackle concrete, stone and masonry with the 695GC diamond chain saw from ICS, which cuts to 16 inches deep and also cuts square corners. The 21-pound saw delivers 6.4 horsepower and features improvements such as a long lasting diamond chain and vibration and sound dampening. The PowerGrit Utility chain enables the operator to also cut ductile iron, cast iron, PVC and HDPE pipe.
Visit EquipmentWorld.com/info
SIMPLIFIED SERVICEABILITY
Kawasaki's Model 42ZV-2 compact wheel loader offers the performance of larger models with the convenience of a smaller size. The .78-cubic-yard loader has a Tier 4 Interim Kubota engine and offers standard features such as a hydraulic quick coupler and third spool hydraulics. For easy serviceability, the Model 42ZV-2 has HN bushings, easy-to-access electrical relays and a side-by-side aluminum radiator and oil cooler. Kawasaki addressed operator comfort with a rubber mounted cab engineered to reduce noise and vibration. The cab option also features a walk-through design, easy-to-read monitors and pillar-less full length windows.
Visit EquipmentWorld.com/info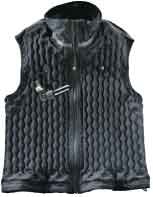 ADJUSTABLE WARMTH
Stay warm without the bulk of extra layers with Ergodyne's N-Ferno 6900 warming vest with NobleTek insulation. The warming system uses flexible, breathable chambers filled with Argon gas. The 4.5-mm layer of Argon offers the same thermal conductivity as 14 mm of synthetic or natural fibers. The 100-percent eco-friendly gas is safe, non-toxic and non-flammable. The vest's inflation port is inside the chest pocket, and a conveniently located relief valve controls warmth. Three 8-gram refill canisters of Argon gas are included with the purchase.
Visit EquipmentWorld.com/info
BOOST PRODUCTION
Experience high output in a mobile central batch plant with CON-E-CO's Lo-Pro 427CM, which is available with a 48-inch-wide mixer charging belt. Paired with a tilt mixer, the plant can produce up to 350 cubic yards per hour. The plant is engineered to accept optional bolt-on expansion modules to enable growth as production needs increase.
Visit EquipmentWorld.com/info
Additional features:
• Blending cement batcher for improved quality
• Configurable for dump truck or transit mixer truck charging
• Standard 50-cubic-yard aggregate storage bin; 14-foot aggregate charging height
• Standard 427-barrel single compartment in-truss silo
BUCKET BENEFITS
Attachments International's Side Dump Bucket simplifies dumping material in difficult locations. The bucket enables dumping in a trench as you drive beside it, or dumping in hoppers from side locations. Industrial hydraulics ensure material is dumped and spread evenly. Skid steer buckets are available in 60-, 66-, 72- and 84-inch sizes, while extreme service buckets are available in 72- and 84-inch sizes. A 90-inch tractor loader model is also available.
Visit EquipmentWorld.com/info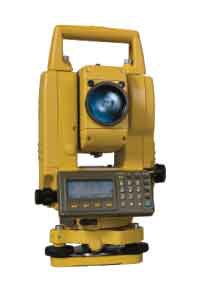 FUNCTIONALITY IN THE FIELD
Increase efficiency in topo data collection, construction layout and road stakeout tasks with Topcon Positioning Systems' GTS-240NW total station, which features Topcon's onboard TopField and Road software. A 24-key alphanumeric keyboard allows you to quickly input point numbers and codes. Key features include a 2.5-inch highest telescope resolving power, point guide for stakeout/layout, laser plummet for quick setup and more.
Visit EquipmentWorld.com/info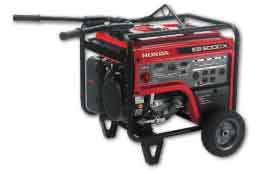 POWERFUL PERFORMANCE
Enjoy quiet operation in a lighter unit with Honda's Industrial Series generators, which have been designed with advanced technology and environmentally friendly features. The series – which includes the new EB4000 and the redesigned EB5000 and EB6500 – is powered by a new engine. The iGX Honda engine features Digital Capacitive Discharge Ignition, the Self Tuning Regulator governor and Current Transformer Sensor coupled with the Digital Auto Voltage Regulator alternator. The EB line also features iAVR Power advantage, a generator system that the company says realizes a 50-percent reduction in voltage fluctuation over current AVR systems.
Visit EquipmentWorld.com/info
SPREAD IT OUT
Evenly spread sand and salt mixtures with the Herd spreader from Kasco Manufacturing, which is available in four models. An agitator system evenly distributes material and handles wet sand, dry sand, sand and salt mixtures and sand mixed with calcium chloride, salt or chloride. Heavy 14-gauge construction and a powdered paint coated hopper extend the life of the unit.
• Model 5.5: Spreads 275 pounds of sand in one minute; hopper holds 5.5 cubic feet of material
• Model 750S: Holds 12 cubic feet of material
• Model 1200S: Holds 20 cubic feet of material
• Model 750SSS: Skid-steer mounted with a hydraulic flow that controls the width of the spread.
Visit EquipmentWorld.com/info