How to haul safely
Part 2:
Safe equipment transport involves truck, trailer and machine
by Larry Walton, contributing writer
While we addressed the need for properly rated vehicles to transport equipment in the first part of this article (see January issue), making sure you have enough truck is not the last word in safely moving equipment. Many contractors have adequate trucks, but they don't have them equipped or maintained properly. Neglected lights, corroded trailer brake connections, missing weight distribution hitches and improperly deployed binders put the driving public, their crew and their businesses at risk.
When it comes to pickups, Chevy, Dodge, Ford, GM and Toyota all have towing guides available online with information on load ratings, hitch types and driving tips. Additionally, each manufacturer includes towing information in the vehicle owner's manual. Mastery of this content is essential to transport safety.
Truck drivers and equipment operators alike should be aware of the capabilities, limitations and procedures for all machines involved in the move. To get the full picture, crew members need to study the operator's manuals for the trailers and for the equipment they are transporting. It will take a combination of information for all three components (truck, trailer and machine) to get everything loaded, secured and safely transported.
Get ready to load
Crew members may load track machines onto the company's older lowboy trailers from the side and apply a 90-degree turn once on the deck. The same trailer may require that a rubber-tired skidder be loaded from the rear by driving directly over the trailer tires. Newer trailers may need to be disconnected and loaded straight in line over the front. Different machines, different trailers, different procedures.
Before loading machines, make sure they are as clean as possible. Some contractors use pressure washers to thoroughly clean their equipment before moving it. Some owners call for this type of cleaning to keep from cross-contaminating properties with weeds. Additionally, it's a good way to minimize the possibility of having rocks or dried mud drop onto the deck where it can become a projectile on the highway.
Whenever practical, put the transport vehicle and trailer on level ground. Make sure both are stopped, locked and blocked. Load balances shift rapidly during the loading process so the more stable the truck and trailer the better.
Pay attention to overhead clearances where you will be loading. Some machines are not yet at their lowest profile during the loading process, which means they can touch power lines, bridges and other overhead obstructions during loading that are of no concern once the load is settled.
Keep workers clear during loading procedures. Shifting, sliding and swinging attachments can serve up trouble in a hurry. Plenty of trailers have tilt designs with a significant amount of movement to transform from ramp to level deck during the loading process. Watch out for the go-getters on the crew who want to rush in and get on the binders before everything is positioned, stopped and settled.
Pay attention to the position of booms, buckets, blades and outriggers both while loading and once on the trailer. Avoid damage to the truck, trailer or the machine. Excavators often need to be knuckled to get below highway height limits. This can leave hydraulic rams exposed to potential damage on deck edges and transitions.
Make sure that ramps and frame locks are properly positioned and pinned in place.
When you are matching a transport vehicle with a machine for the first time, make your best educated guess as to where to position the machine on the truck or trailer, then get it to the scales to see how your weight distribution is on the axles. Once you've made adjustments, mark the locations so you can get it right the next time.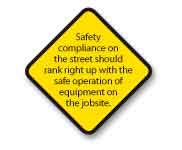 Block and chain the machine according to the manufacturers' recommendations. Four diagonal binders are usually the minimum with additional chains to secure attachments. If chains go away from the machine at the front, they should also go away from the machine at the rear. For larger equipment, the chains often angle back toward and under the machine. All four corner chains should do the same.
Make sure the truck and trailer decks and ramps are clean and clear of debris. Secure chock blocks, stickers, shims and chains that may be easily overlooked. Windshield-breaking rocks may be the least of your worries if this type of projectile is coming off of equipment on the highway. Worse is an unused binder or chock block that bounces to the outside of the deck. A good push broom should be part of the truck's safety equipment.
Before you hit the road
Double check the overall height of the load.
Make sure all mirrors provide a good view of the load and the road.
If the load is oversized, make sure you have all required permits, wide load signs, flags and lights in place. Check that all required lights and radios are in operation for the pilot cars.
Plan transport routes carefully, avoiding heavy traffic, steep grades and tight streets as much as possible. Plan a stop after a few miles to check chains, binders, blocks and machine position. Make adjustments as needed.
Truck drivers must be aware of the added stopping distance needed with a heavy load. This speaks to maintaining adequate following distance. It also means getting the best possible reaction time. Avoid in-cab distractions and outside sightseeing. Drivers must pay attention to the road ahead to anticipate a problem before becoming part of the problem.
A company that takes pride in being the best at operating equipment should strive to be the best at transporting equipment as well. Think safety first and last for you, your crew and the driving public. EW