By Amy Materson
POWER UP
Miller's EnPak Mechanic Series is a truck-integrated air compressor, generator and hydraulic pump that runs on its own 27-horsepower Kubota diesel engine. The unit is wired and plumbed into the truck's electrical and fuel systems so you can plug in your welding machines and other electric tools, hydraulic attachments or air tools at the various tap points. The variable-speed, rotary-screw air compressor puts out 40 cfm at 100 psi with a 175 psi maximum. The hydraulic pump is rated at 3,000 psi and 8.5 gpm (up to 20 gpm max). And your electric tools can tap into 6,000 watts of generator power at 100 percent duty cycle plus an additional 2,400 watts of pure sine wave power at idle. Compared to a conventional PTO the EnPack can lower fuel costs up to 30 percent, reduce truck engine hours up to 60 percent and lower noise levels as much as 10 decibels, the company says.
Visit EquipmentWorld.com/info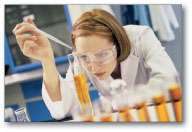 CHECK IT OUT
Castrol Heavy Duty Lubricants has launched a new version of Labcheck, their used oil analysis program. Labcheck now offers a web-based application with which customers can manage their analysis program. The improved level of functionality gives customers flexibility in application specific analysis, and in choosing the severity of equipment applications.
Visit EquipmentWorld.com/info
EDITOR'S PICK
MULTI-TASKING TRENCHER
Improve productivity with Ditch Witch's RT24 compact trencher, which offers steering similar to that of a skid steer for easy maneuverability. The fully hydrostatic unit delivers 22.3 horsepower and digs trenches up to 48 inches deep and 8 inches wide, for a variety of utility work. Designed with more weight on the digging chain, the RT24 puts product in the ground quickly. A track option improves stability and traction, and a trail wheel that supports the oscillating tracks reduces breakover in uneven terrain. For difficult digging conditions, the RT24's chain speed can be adjusted with a substitution of a 10-tooth sprocket for the standard 12-tooth sprocket. A backfill blade removes the need for manual labor, and a boring attachment enables contractors to install utilities under surface improvements such as sidewalks while minimizing ground disturbance. Hand controls grouped together at the operator's station ensure easy operation.
Visit EquipmentWorld.com/info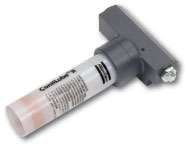 SMALL SOLUTION
Automatically lubricate machine-operated hydraulic breakers weighing less than 1,100 pounds with Atlas Copco's ContiLube II micro-system. The system's refillable cartridge holds 5 ounces of chisel paste, and the casing's compact pump supplies the grease as needed by bleeding air independently. The system can be carrier mounted or directly attached to the breaker's adapter plate.
Visit EquipmentWorld.com/info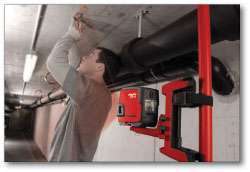 CONVENIENT KIT
Reduce the number of tools you carry with Hilti's PMC 46 Combilaser, which enables leveling, aligning, plumbing and squaring applications with a single kit box. Hilti's Pulse Power technology offers reliable, accurate measurements with the touch of a button, and calibration and adjustment service ensures continual accuracy. The PMC 46 also features a 20-hour battery life, a PMA 78 universal adapter, wall mount, ceiling clamp, magnetic bracket, drywall stand and a PMC 20 compact tripod. The unit's Impact Protection System and rubberized drop points provide durability for tough jobsite conditions.
Visit EquipmentWorld.com/info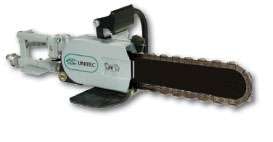 SAW IT ALL
Cut a variety of pipe, including ductile iron, cast iron, PVC and HDPE pipe with CS Unitec's PowerGrit Air Chain Saw. The saw features a 20-inch-diameter cutting capacity, and is available with 15- or 20-inch bar lengths. Unlike abrasive cut-off saws, the PowerGrit allows the user to cut from one position, reducing excavation for underground pipes. Diamond segments grind the material instead of tearing it, reducing vibration and kickback while resulting in a precise cut. Pneumatic power eliminates exhaust fumes created with conventional saws. With no belts, pistons, gas fuel lines or carburetors to service, maintenance is minimized.
Visit EquipmentWorld.com/info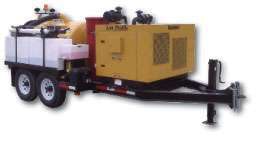 SUCK IT UP
Remove wet and dry materials with Vac-Tron Equipment's AIR 555 SDT vacuum, which returns dry materials to the hole to use as backfill. The low profile unit has an 84-horsepower Yanmar diesel engine and a heavy-duty trailer with torsion axles for mobility, or is available in a truck bed option. The 1,000-cfm vacuum delivers 180 psi at 165 cfm of air, and 3,500 psi at 4 gpm of water. A push-button hydraulic rear door is remotely controlled to ensure operator safety.
Visit EquipmentWorld.com/info
LIGHTEN THE LOAD
Accomplish a range of everyday hauling tasks with Featherlite's Model 3112, a gooseneck version of the Model 3110 bumper pull trailer. Suitable for hauling skid steers and small equipment, the Model 3112 is available in 20-, 24-, 26- and 30-foot lengths and measures 8 feet 6 inches wide. Two 7-foot-long ramps store underneath the trailer. The unit has stainless steel swivel "D" tie downs to secure cargo, removable fenders, an aluminum extruded floor and LED lights.
Visit EquipmentWorld.com/info