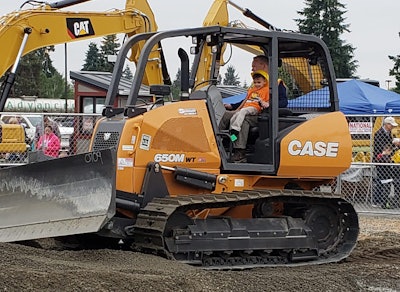 What kid doesn't love big construction machines?
While the industry struggles to find manpower, Dozer Day is exposing kids ages 2 to 12 to the world of heavy equipment in the hopes that they'll carry that enthusiasm into their teenage years, their educational choices and eventually their adult careers.
That's the theory anyway, behind Dozer Day, a program will kick off its first event in Kansas City, October 5 and 6, hosted by that city's National Utility Contractors Association (NUCA). The event will be held at Kansas City Speedway (a NASCAR track) on Chicagoland Drive. The Nutter Family Foundation started Dozer Day in the Seattle area in 2008 and has since held additional events in Vancouver (Washington), Yakima, and Northern Idaho.
"We're going to have 30 pieces of live action equipment that will be in operation throughout the event, plus static displays," says Dan Dean, branch manager for Murphy Tractor and Equipment in Kansas City. "Each kid gets two tickets with which they can get rides on two pieces of equipment."
Murphy Tractor and Equipment is one of ten Diamond Level sponsors for the event, along with most of the major OEM dealers in the Kansas City area. Additionally most of the area's largest contractors are participating as well.
In addition to operating excavators, dozers and other heavy equipment, the kids will also have the opportunity to learn more about construction with activities based around pipe mazes, tire crawls and a zip line course.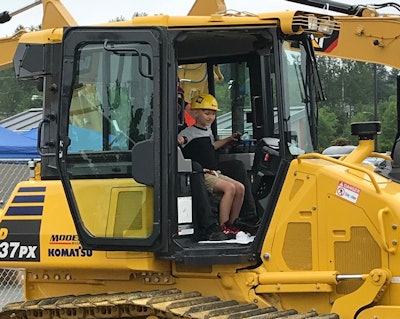 If you are interested in participating as an equipment dealer or contractors you can sign up at the events' website (https://events.bizzabo.com/215331). You can also buy tickets there and bring your own crowd of young operators. Most of the dealers have signed up to be Diamond Level sponsors, says Dean, but there are additional levels of sponsorship available as well.
You can also sign up as a volunteer and help with the event. The organization has tapped into a pool of high school students looking for community service hours as well as parents and educators who see the value in exposing young people to the trades.
Dozer Day is the Nutter Family Foundation's signature event. The Nutter corporation is a leading heavy civil contractor that does business in Oregon, Washington and North Dakota. Aside from fundraising, the foundation's primary goal is to give children the opportunity to develop their talents and educate them about building sustainable communities, industry opportunities and public safety.
Additional information can be found at: https://dozerday.org.