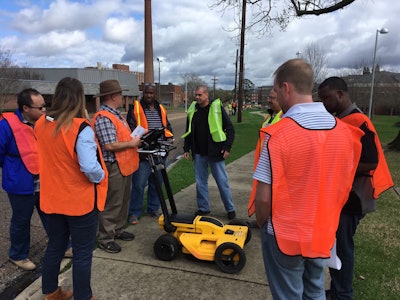 Everybody knows to call 811 before you dig, but safety conscious contractors can take it a lot further by educating somebody in their company on underground utility locating and mapping skills. With the right skill set you can not only prevent underground utility strikes but also plan and execute construction projects in ways that reduce delays and expenses caused by inattention to underground utility issues.
The Trenchless Technology Center at Louisiana Tech University is hosting its fourth Utility Investigation School at its campus in Ruston, Louisiana, February 25 through March 1, 2019. This a 40–hour course will give practitioners the knowledge and tools to provide competent utility investigations in accordance with the American Society of Civil Engineers 38-02 national standard and to defend against claims through this knowledge and documentation.
The course will be taught by top experts in the geophysics and subsurface utility engineering field for those professionals stamping ASCE 38-compliant utility mapping deliverables and their direct reports such as lead CAD and field staff. It will combine a mix of classroom and hands–on training in the field.
The class is intended to address the two performance goals of ASCE 38-02: How can a project be designed so as to have minimal utility issues during project development, and how can professionals protect themselves against utility-related claims. ASCE UESI and TTC / LA Tech issue 40 professional development hours and 4 continuing education unit credits for this course.
At some point in the future, the course will become part of a Subsurface Utility Engineering Professional Certification. UESI members get a discounted registration. For more information or registration, click here.