Working off the theme of "Smart Synergies and Innovations," the Wirtgen Group Bauma exhibit will share space with John Deere Construction & Forestry, underlining Deere & Company's purchase of Wirtgen in 2017. The two companies' exhibit spaces will be joined by a skywalk.
In addition to select products from John Deere—including the 622GP and 672 GP motor graders Deere just introduced to the European market via Wirtgen dealers in Germany and France—the companies' display will include:
Pavers: Wirtgen divides its paver lineup into two large categories: Classic and Premium. Within each of those categories, models are designated as Mini, Compact, Universal, Highway and Special Class. During the show, "we'll be showcasing the latest models from both lines for the first time," says Roland Schug, head of marketing, in a Bauma press overview.
This includes Vogele Super 3000-3i paver (seen above), which is the largest paver in the company's lineup.
Designed to be a high performance paver for thickness up to 50 cm, the Super 3000-3i has a paving width of up to 18 m and a laydown rate of 1,880 metric tons per hour. In addition to paving highways, the paver is designed for paving airport runways, large squares and traffic areas. The paver's material transport system gives it the ability to install thin surface courses.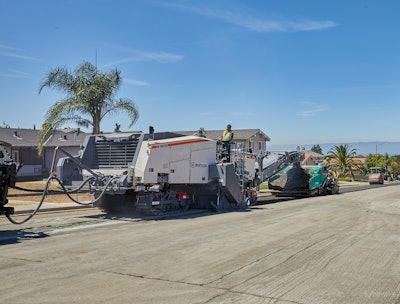 Wirtgen's new W380 CRi cold recycler is available with three working widths and can mill a road between 100 and 300 mm deep on most jobs. Granulating the material, the machine adds binding agents such as cement, bitumen emulsion or foamed bitumen to form a homogenous mixture. With a mixing capacity of up to 800 metric tons per hour, the machine feeds recycled material into a paver through its swivel-mounted and height-adjustable rear discharge conveyor.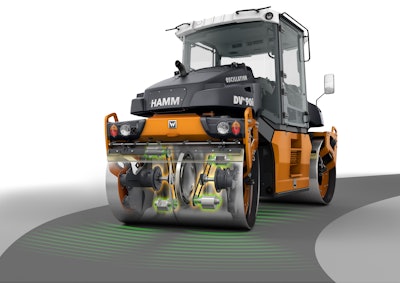 Also on display will be the Hamm DV+ 90i VS-OS roller, which has a true split oscillation drum. U. S. contractors got a look at the split oscillation drum at the World of Asphalt last month.
The split oscillation drum gives the rollers additional capabilities in tackling compaction on bridges, on thin-layer projects, in vibration-sensitive areas, or on jobs that have strict temperature requirements. This feature also helps this roller excel at difficult-to-compact asphalt mix and curved sections, according to Wirtgen.
Each half of the split oscillation drums uses a separate, mechanically independent oscillation unit. Rotational speeds of each drum half are adjusted to match one another, driven by an integrated control mechanism. The electro-hydraulic synchronization allows the system to react quickly and precisely, ensuring synchronous vibration. This reduces the danger of cracks in or displacement of the asphalt being compacted.
The Wirtgen/John Deere exhibit will be at booth FS.1011 at Bauma.