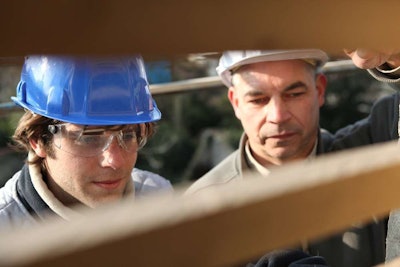 Got a top-notch intern at your construction firm you'd like to recognize and possibly help them win some scholarship money?
HCSS construction industry software developer is once again offering its annual $50,000 Construction Intern Awards for students in construction-related fields. This year, for the first time, HCSS is offering weekly awards of $2,000 each from now through September 2 and one special $4,000 scholarship.
On November 14, HCSS will announce its Intern of the Year $10,000 scholarship. The three finalists will receive $4,000 each. In all, 17 scholarships will be awarded. Also, students can win up to two weekly scholarships and still be eligible for the Intern of the Year award.
To be eligible for the awards, students must have completed or be enrolled in a construction-related internship lasting at least two months during the January 2017 – August 2018 school year. Participants still working to complete their summer internships are eligible to enter the weekly scholarship contests and can apply at constructioninternawards.com. The last weekly scholarship will be awarded September 2. Applications for the Intern of the Year will be accepted until September 2 at 11:59 p.m. Central Time.
Each weekly scholarship has a different topic. To apply, interns send in a photo of themselves with a 50- to 75-word caption related to the topic.
The top five entries, based on popular online voting, are then sent to an internal HCSS judging committee, which awards the weekly $2,000 scholarships. The winners will be announced each Tuesday on the contest's Instagram (@learnconstruction) and Facebook (2018 Construction Intern Awards) accounts. HCSS will award a special "bonus" weekly scholarship during the summer.
For the Intern of the Year, entrants answer five essay questions and submit photos and videos that help tell their story. Eight semifinalists, selected by the internal HCSS committee on October 17, will be forwarded to a voting panel of construction industry members to select the winner and three finalists.
"Our Construction Intern Awards scholarship program is about showcasing and recognizing the top interns and the companies who help them succeed," says Steve McGough, president and chief financial officer of HCSS. "This year, we wanted to expand opportunities for highly motivated interns to earn more scholarships, while generating more program excitement and engagement by holding weekly contests. The new format allows students to post pictures while completing their internships."
For more details, go to constructioninternawards.com.