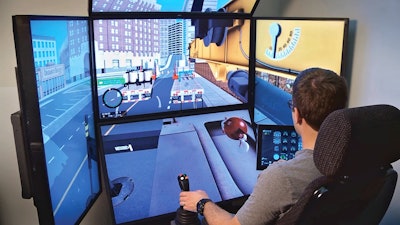 Crane Industry Services (CIS), has begun a study to determine how effective the integration of crane simulators is in its training program.
The Atlanta-based company currently trains crane operators using a combination of online, classroom, hands-on and on-the-job training sessions. The study, performed through a partnership with Montreal-based CM Labs Simulations Inc. and West Georgia Technical College, introduces the use of a Vortex Rough Terrain Mobile Crane Training Module in conjunction with the current training methods and seeks to determine what skills operators attain with the use of simulators and whether or not simulators actually boost skill level.
The Vortex training module is based on a 40-ton rough-terrain crane with a full boom extension of 102 feet and simulates multi-body dynamics and captures real behavior of cranes, rigging, and loads.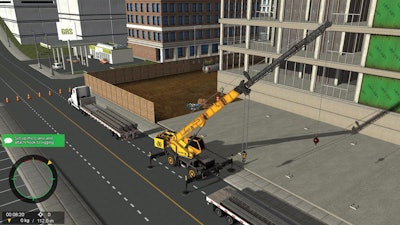 "This study is a first for the crane industry," says Debbie Dickinson, CEO of Crane Industry Services. "While crane simulation tools are not new to the construction industry, there is little quantitative research that determines the value crane simulation offers as part of comprehensive training. We anticipate that the validated study will be used to set specific goals for skill development."
CIS will run the study for the next 14 months, or until 500 operators have participated. The study will include inexperienced, moderately experienced and very experienced operators. For the study, the researchers would like to hear from employers with operators that meet any of the following guidelines:
Have no real experience (less than 99 hours operating time total) and have only received classroom instruction on crane safety concepts
Have limited experience (up to 1,000 hours operating time in the previous five year period), but whose crane operation exposure is no more than 20% of their on-the-job time per year. These operators may come from general industry or construction, and they may or may not be certified.
Are considered full-time crane operators (over 1,000 hours operating time in the previous five year period), but who have had little or no exposure to training simulators. In most cases, these will be certified crane operators