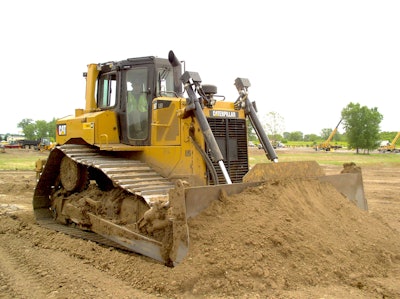 At the controls of a Caterpillar D6 dozer on an overcast day in Southern Wisconsin, David Gomroth, 33, of LaCrosse, Wis., hones his skills in his quest to become a credentialed heavy equipment operator. The 6-week, two-part heavy equipment training program he's enrolled in at Associated Training Services in Sun Prairie, Wisconsin, promises to teach him to operate a range of equipment, including backhoes, excavators and compactors, along with other skills such as site work, loading and transporting, and basic CPR and first aid.
Gomroth currently works for a local township, but hopes to improve his financial situation with his newfound skills. "The money's there for this type of career," he says. "Plus, who doesn't like operating heavy equipment?"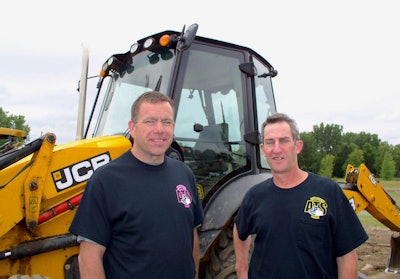 The answer, according to a survey conducted by the Associated General Contractors last summer, may be too many potential workers.
In fact, 86 percent of contractor respondents said they are having trouble filling job openings, including those for equipment operators. Around the country, schools such as ATS seek to help fill those positions, offering training on running heavy equipment, cranes and Class 8 trucks with programs ranging from a 1-week rigger/signalperson course to one that runs 16 weeks and covers the entire range of equipment.
AGC analysis shows the need for trained new entrants is growing: Construction employment increased 3.4 percent in May over the prior year, double the rate of the overall economy, while pay also increased faster than the rest of the private sector. "These facts support what contractors tell us: they have plenty of work but are struggling to find qualified workers to hire," says Ken Simonson, AGC chief economist.
Several factors contribute to the construction labor shortage, including an aging workforce and the fact that many workers who were laid off during the Great Recession left the industry for jobs in other sectors. But one of the main reasons is that many young people are not exposed to construction career opportunities, says John Klabacka, president of Associated Training Services.
"Kids are pushed into college, not trades," Klabacka says. "Over the last 20-30 years, we've seen most industrial arts and trades training (in high schools) disappear."
That's unfortunate, Klabacka says, because construction jobs offer competitive pay and often better job security than those requiring a college degree. According to the Bureau of Labor Statistics, the median hourly wage for an equipment operator was $21.44 in 2015, or $44,600 annually, which can climb to $77,500 and up, depending on experience and location. New college graduates with bachelors degrees will earn anywhere from $35,000 to $65,000 on average this year, the National Association of Colleges and Employers found.
An ATS operator-training course, such as the one Gomroth is pursuing, runs about $12,000, compared to about $10,000 per year for in-state tuition at a four-year public college. And such courses may not even be necessary at construction firms that offer on-the-job training.
To generate interest in construction careers among high school students, ATS is offering a free two-day summer camp July 29-30, 2016, for those ages 16 and up, with the chance for them to operate skid steers, wheel loaders and other equipment. Klabacka's team is working with high school counselors, the YMCA and Operation Fresh Start (a youth services agency), to spread the word about the camp and about opportunities available in construction.
Among the 1,200 or so students from around the country who attend ATS each year, Training Director Mike Plonsky sees a mix of ages and backgrounds from young people hoping to get their first job to older workers on their second or third career who say they've always wanted to operate equipment. About 200 veterans also go through the school each year using their GI Bill benefits, Plonsky says. For instance, James Long, who came to ATS to train as a crane operator, was an underwater welder in the Marine Corps but found his skills "too niche to find a job" in the private sector.
Students who have graduated from ATS routinely check in with Plonsky, himself a third-generation heavy equipment operator, to let him know how they are doing. One former student recently sent Plonsky photos of himself setting wind towers with a crane. "It's a recharge to my batteries every day," says Plonsky, who manages 12 other instructors, most with five to 15 years at ATS.
About 30 percent of students already have jobs lined up when they graduate, Klabacka says, while another 30 percent have identified companies they can go to work for. Beyond that, the school's placement department helps students find jobs, many through Total Resources Network, a database of 5,000 employers and 10,000 prospective workers.
A family-owned organization, ATS is accredited by the National Center for Construction Education and Research, which provides the school's curriculum. The school is planning a grand opening July 15 of its new building, which features classrooms sponsored by JCB, Case, Terex, Manitou, and Mazzella.