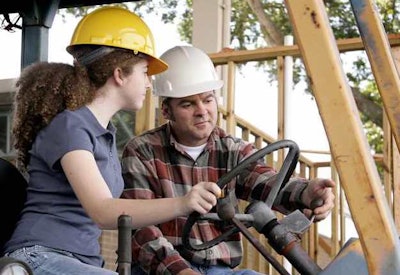 This year's ConExpo show will be the site for a new effort to help the heavy equipment industry address the worker shortage by recruiting young workers.
The show will feature a new Workforce Solutions Area, where more than 1,000 students will learn about career opportunities in the industry. Various organizations will introduce students, as well as military veterans and others who might be looking for a better career, to trade skills and to the many good-paying opportunities the industry offers. It will also provide employers with information on how best to recruit workers.
(You can see what equipment makers have in store for ConExpo 2020 in our show preview page by clicking here, or by checking out the video embedded in this post.)
The area, at booth F9002 in the Festival Grounds, is the result of a partnership formed by the Association of Equipment Manufacturers with other industry associations, educational institutions, youth organizations and heavy equipment manufacturers. Ten booths and a workforce trailer will be available for attendees to learn more about career opportunities and the skills required to succeed. On March 12 and 13, the workforce area will be visited by local high school students as special guests. SkillsUSA Nevada youth chapters will be on hand to demonstrate trade skills. Other demonstrations will also be presented. The students will be able to engage in hands-on activities to give them a better understanding of the industry.
The students will also be able to visit booths of participating exhibitors in the Festival Grounds in which they can learn about opportunities with individual companies.
"It's critical for the construction equipment manufacturing industry and the market it serves to do what it takes now to showcase the incredible career opportunities offered by our industry," says Julie Davis, AEM workforce development director.
Participants with AEM in the program are: National Asphalt Pavement Association, Be Pro Be Proud, Association of Equipment Distributers, Lift & Move USA, Wacker Neuson, Cashman CAT, DoD SkillBridge, Hero's Make America, Agricultural Future of America, Virginia Tech (mining engineering), Ferris State University (heavy equipment), SkillsUSA and Bridging America's Gap.