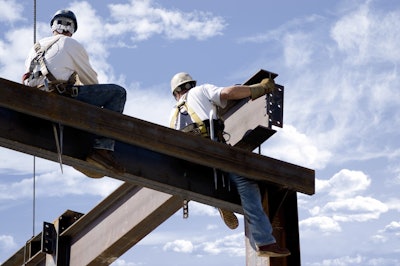 The U.S. construction industry saw employment increase by 3.1 percent during 2017, according to preliminary data from the Labor Department.
Industry employment increased by 30,000 jobs in December to a seasonally adjusted annual rate of 6.993 million Americans. Construction added a total of 210,000 jobs over the course of 2017.
The new data also revised the November jobs total upward from 6.955 million to 6.963 million. The change increases what was a monthly increase for November of 24,000 jobs to 27,000 jobs.
Construction's unemployment rate rose from 5 percent in November to 5.9 percent in December.
The U.S. economy added 148,000 jobs in December and 2 million jobs over the course of 2017. The nation's unemployment rate remained flat at 4.1 percent.
Construction employment since Jan. 2007