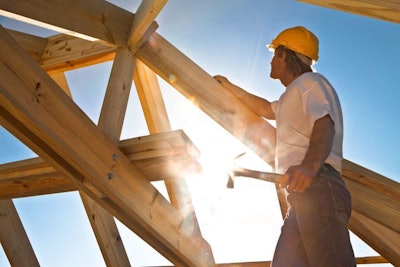 The U.S. construction industry added 58,000 jobs in February, according to preliminary data from the Labor Department. Monthly jobs figures can change as the department revises past estimates month to month, but if February's figure holds, it would be the second-largest monthly construction jobs gain of the last 10 years.
The largest increase of the last decade belongs to March 2007 when the industry added 80,000 jobs before shedding nearly five times that amount over the following 12 months.
A total of 6.881 million Americans are currently employed by the industry, an increase of 3.2 percent over the February 2016 total.
February 2017's gain follows a preliminary January gain of 40,000 jobs bringing the number of jobs the industry has added since December to nearly 100,000.
The industry's unemployment rate fell for the first time in three months from 9.4 percent to 8.8 percent.
Construction employment since January 2007
Single-family strength pulls U.S. home starts up 3% as homebuilder confidence soars
Despite a decrease in the start of construction on multi-family units, total U.S. home starts rose 3 percent in February to a seasonally adjusted rate of 1.288 million, according to preliminary data from the Commerce Department.
Construction on single-family homes rose 6.5 percent to a rate of 872,000. The gain was enough to offset multi-family's 7.7 percent drop to a rate of 396,000.
Building permits, a good barometer of how the homebuilding industry is trending, were down 6.2 percent in February to an annual rate of 1.213 million.
The National Association of Home Builders reports that confidence among its members jumped 6 points to a 71 in the latest release of the NAHB/Wells Fargo Housing Market Index. Any reading above a 50 indicates most home builders believe market conditions are good.
The NAHB says this is the highest reading the index has seen since June 2005.
"Builders are buoyed by President Trump's actions on regulatory reform, particularly his recent executive order to rescind or revise the waters of the U.S. rule that impacts permitting," said NAHB chairman Granger MacDonald.
"While builders are clearly confident, we expect some moderation in the index moving forward," added NAHB chief economist Robert Dietz. "Builders continue to face a number of challenges, including rising material prices, higher mortgage rates, and shortages of lots and labor."