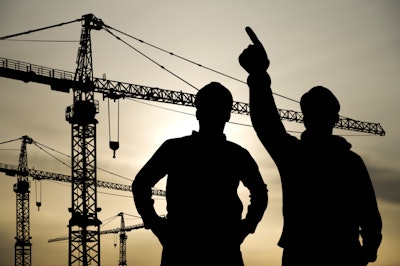 The latest construction hiring outlook from the Associated General Contractors of America contains both good news and bad. While the majority of U.S. contractors expect demand to grow in the public and private sectors across all market segments, they continue struggling to find qualified employees to meet that demand.
And, according to the results of the AGC's 1,281-response national survey, it's not for a lack of trying. Seventy-three percent of all U.S. contractors surveyed said they planned to expand their payrolls in 2017, a total up from 66 percent of respondents in an AGC survey last summer. To attract new hires, more than half of respondents to the latest survey (52%) say that they have increased their base pay rate, while 35 percent say they are providing incentives and bonuses and 28 percent have increased contributions or have improved the benefits they offer.
According to an AGC report on the survey, much of the industry's optimism appears to be based on "the assumption that the economy will continue to grow next year and that the incoming Trump administration will enact significant new investments in a range of public works projects, especially for highways and public buildings." (You can find the survey's findings for dollar volume expectations per market below.)
However, 73 percent of respondents to the latest survey say they are having a hard time filling both salaried positions (project managers, supervisors, estimators) and hourly craft positions (carpenter, laborer, equipment operator, etc.).
"While the new administration and its stated policy objectives offer many reasons for optimism, there is a significant risk to the industry if the new Congress and administration under-deliver," says AGC CEO Stephen Sandherr. "If plans to invest in infrastructure, reform healthcare laws and roll back regulations are delayed, many contractors will likely scale back their plans to expand headcounts."
According to preliminary data from the Labor Department, the construction industry currently employs 6.699 million Americans. Despite a decline of 3,000 jobs in December, construction employment remains at its highest point since December 2008.
The AGC's previous workforce survey from 2016 found that the percentage of contractors having trouble finding qualified employees had dropped to 66 percent, providing a glimmer of hope that the skilled labor shortage may be easing up a bit. However the latest finding represents a return to the percentage of surveyed contractors having the same trouble in 2015.
Contractors don't see things getting much easier, either.
Seventy-five percent of respondents to this latest study say finding qualified employees will either be just as hard in the coming year or get even harder. And worries over labor represent three of the top five concerns responding contractors listed. Worker shortages, worker quality and rising labor costs were listed by 55, 46 and 42 percent of respondents as being among their biggest concerns for their business, even beating out concern over federal regulations which garnered 41 percent.
The majority of contractors also say these labor concerns could have an impact on overall worker safety. Eighty-seven percent of respondents named inexperienced workers or the inability to find workers at all as a safety challenge, with 51 percent saying they considered it a "major" challenge.
Labor concerns continue to plague construction even in the face of increased investment by the industry in workforce outreach and training in recent years. In 2017, more than half of responding contractors (52%) say they will increase their investment in training and development.