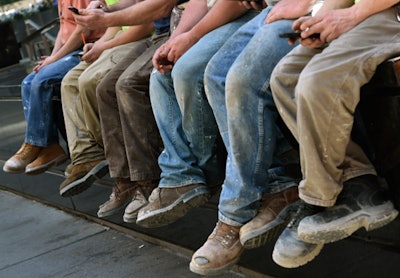 For the first time in the last four years, the percentage of U.S. construction firms reporting trouble filling hourly craft positions has fallen. However, contractors don't seem to think things are getting much better.
According to the latest national survey by the Associated General Contractors of America, 69 percent of U.S. firms polled said they are having a hard time filling some hourly craft positions. That number is down from 79 percent in 2015.
The AGC survey included 1,459 responses and found that carpenter remains the position most firms, 60 percent, are finding hardest to fill. That's down from last year's survey which found 73 percent of responding firms struggling to fill that position.
Electricians (53 percent), roofers, plumbers (both at 50 percent) and concrete workers (49 percent) round out the top five hardest-to-fill positions.
The AGC survey found that craft worker shortages are the most severe in the Midwest, where 77 percent of contractors are having a hard time filling those positions. Meanwhile, 74 percent of contractors in the South, 71 percent in the West and 57 percent in the Northeast reported the same difficulty.
Despite the decline in the number of firms reporting trouble, the fact remains that nearly two-thirds of all U.S. firms are struggling to find enough skilled workers as the rebounding construction industry is experiencing demand it hasn't seen in nearly a decade. Sixty-six percent of firms surveyed told the AGC that they plan on hiring more hourly craft workers in the next 12 months due to increased demand.
"These shortages have the potential to undermine broader economic growth by forcing contractors to slow scheduled work or choose not to bid on projects, thereby inflating the cost of construction," said AGC chief executive officer Stephen Sandherr in a prepared statement.
And this year, more firms told the AGC that they don't expect hiring will get much easier.
Seventy-five percent of firms said they expect continued difficulties in finding enough skilled hourly workers in the next 12 months compared to last year's 53 percent. And 61 percent said it will continue to be difficult hiring for salaried positions compared to last year's 37 percent.
In response to the hiring difficulties, nearly half of responding contractors told the AGC they had increased base pay rates for hourly workers while 22 percent boosted employee benefits. Another 20 percent say they are providing incentives and bonuses to attract more workers. The responses highlight just how competitive the market for skilled hourly workers has become with 33 percent of respondents telling the AGC they have lost craft workers to competing contractors in their area.
Some good news is that more contractors feel the local pipeline for new hires is adequate. While half of last year's respondents rated their local training and recruiting infrastructure as either below average or poor, only 37 percent did so this year with 38 percent rating it "good."
That might be because more contractors are more actively getting involved in improving construction training in their areas. Forty-eight percent of firms told the AGC they are doing more in-house training while 37 percent said they are getting involved with career-building programs in local schools.
You can see the full survey results here.