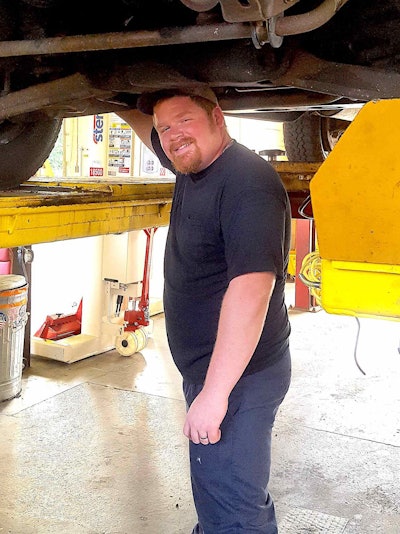 Travis Elliot, equipment technician for the Virginia Department of Transportation, learned a lot of what he knows at his father's side. His dad worked as a diesel tech from more than 30 years and as Travis says, "For as long as I can remember I was outside in our home garage with him when he worked on various vehicles trying to learn as much as possible."
To supplement that knowledge, Travis attended J. Sargent Reynolds Community College for Automotive Technology. He graduated with an Associates of Applied Science Degree in Automotive Technology with a Diesel certificate and has compiled multiple certifications including Medium/Heavy Truck ASE Master Technician, ASE L2 Advanced Level Specialist Certification and certification in mobile hydraulics. And because the technology is changing so fast, Travis says he attends several classes on different subjects every year.
Travis says the schools and certification courses gave him a good foundation but that he's learned the most from working alongside older mentors. In March, Elliot was named one of the Association of Equipment Management Professionals Technicians of the Year.
A safety meeting typically starts Travis' workday at 7 a.m. At 3:30 p.m. things are usually wrapped up, but in inclement weather the shift can be much longer, says Travis.
Off-duty, it's not uncommon to find him wrenching on something else. "Usually once my day is over at VDOT I find myself working on something for fun in my free time."
Love what you do
Travis is a firm believer in that theory that if you love what you do you'll never work a day in your life. "In my line of work here at VDOT every day is an adventure. One day I could be working on a chainsaw and the next a motor grader. It keeps it exciting," he says.
What attracts him to the job is the ability to take something completely apart, fix it, and reassemble it. "Taking something that is not working correctly or not working at all and repairing it back to working condition is something I really enjoy," he says.
When confronted with a mechanical problem he can't solve by himself, Travis often turns to a popular resource for today's mechanics, the internet. "There is a good chance someone else has encountered the same problem," he says. "The internet is one of the most useful tools in today's industry. It connects technicians from all over the globe."
Technology challenges
"The new emissions laws have caused manufacturers to install even more sensors, filters, valves etc., and they have to fit all of it in the same space as they had before, Travis says. "It causes a space issue which makes certain repairs difficult but I believe that is all part of the constantly evolving industry."
In addition to the technology on the machines, the tools he works with are becoming more sophisticated. "There isn't a day that goes by that I do not use a computer of some sort. We have digital work orders, diagnostic laptops and online repair manuals."
The future
"Hopefully one day down the road I will find myself in a supervisory role," says Travis. "Later on in life I would love to pass my knowledge down to the upcoming technicians by becoming a teacher at a tech/trade school."
Travis also thinks a lot of young people his age don't want to get their hands dirty and are blind to the opportunities in the diesel tech world. "Most youth have been told from a very young age that college is a must," he says. "I agree, but I believe when they think of college they think of white collar jobs. There are many trade schools offering college degrees in automotive or diesel technology. With the shortage of young people wanting to pursue the trade the demand is very high for skilled technicians and the pay is very competitive."
One way to get more young people interested in the trades would be to give them more exposure at an early age, he says. "I believe more young people need to have the opportunity to pursue the industry during high school or middle school. A lot of school districts are doing away with shop class, unfortunately," he says.
*If you would like to nominate a technician for consideration in the AEMP Technician of the Year Award, visit their website at: http://www.aemp.org/toy-criteria/. You do not need to be a member to apply.