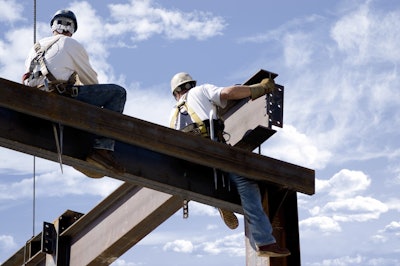 Following a streak of 12 consecutive months without a loss in jobs, the U.S. construction industry has posted losses for two straight months.
Though previously reported by preliminary data from the Labor Department as a month where construction employment increased by 1,000 jobs, the department's latest revised data shows the industry actually lost 5,000 jobs during April.
And in May employment fell by another 15,000 positions to a preliminary figure of 6.645 million.
Despite the decrease, construction employment is up 3 percent over the May 2015 figure.
Meanwhile, the industry's unemployment rate continued to fall in May, down to 5.2 percent from the April figure of 6 percent. That's down considerably from March's rate of 8.7 percent and is the lowest unemployment figure the industry has posted since October 2006 when the rate was 4.5 percent.
The U.S. economy added 38,000 jobs during May, with unemployment falling to 4.7 percent—an eight-year low.
Construction employment since January 2006