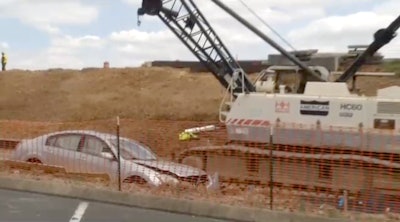 A man performing work inside a Highway 27 work zone in Tennessee is lucky to be alive after being hit by a car an eyewitness says entered the jobsite airborne.
According to a report from WRCB TV, Sharon Wilkins had taken a break from work to "get some fresh air," when she witnessed a Nissan Maxima launch into the worker.
"When he came over it was like hydroplaned," Wilkins told the station. "…He was up in the air when he hit." The driver told the station he didn't remember what happened to cause the accident but hoped the worker was OK.
The worker struck by the vehicle was part of a crew working on an expansion project on the highway near Chattanooga. Luckily he suffered only a fractured leg.