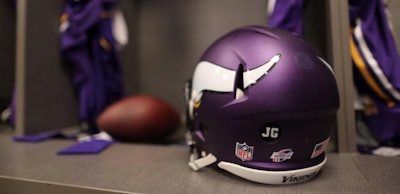 Three days after a tragic accident that killed one worker and left another injured at the site of the Minnesota Vikings' future stadium, the team honored the fallen worker on the field.
Saturday night, the Vikings took the field in Arlington, Texas, in a preseason game against the Dallas Cowboys. On the back of the players' helmets was a black decal with the letters "JG" in white, in honor of roofer Jeramie Gruber.
According to a report from the Minnesota StarTribune, Gruber, 35, was killed Wednesday morning when he and one other worker fell an estimated 50 feet from the under-construction stadium's roof in to a snow gutter. Gruber, who worked for subcontractor Berwald Roofing was dead upon arrival at the hospital. The other man survived.
Work on the $1.1 billion stadium in Minneapolis was stopped until Friday while the site was investigated. John Wood, senior vice president of the project's general contractor Mortenson Construction, told the StarTribune he couldn't say for sure whether the workers were wearing the safety harnesses required at that height.
Investigators have not yet determined what caused the men to fall.
Tonight the #Vikings will honor Jeramie Gruber, who tragically passed away earlier this week. pic.twitter.com/1BnjrXOwKz

— Minnesota Vikings (@Vikings) August 29, 2015