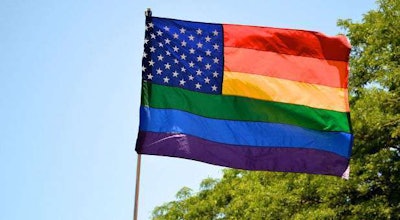 What a construction worker in Nebraska describes as a defense of the American flag landed him without a job recently.
According to the Lincoln Journal Star, James "Tony" Cascio was part of a Beal Derkenne Construction crew building student housing when he noticed a nearby bar called Alley flying the flag, but not the standard issue, red, white and blue version.
These stars and stripes were in the colors of the rainbow and flying high three days after the U.S. Supreme Court's June 26 ruling to legalize same sex marriage.
A day after the flag went up, Cascio went to the bar and expressed his feelings about the flag. According to bar owner Matthew Moore, Cascio called he and the bar's patrons derogatory names and threatened their safety. Cascio says the confrontation had nothing to do with the bar being "gay-friendly," as Moore put it.
"I found it highly insulting to deface our country's flag," Cascio said.
Afterward, Moore went to the project's office to report the incident and provided security footage.
When Cascio showed up at work the following week, he was called in and fired for breaching conduct requirements. He argues that he was on his own time and speaking for himself, but the building group says that whether he was on the clock isn't relevant.
The bar did take rainbow flag down, however, and Cascio says that he is proud of that fact, though he's not sure it was worth losing his job over.