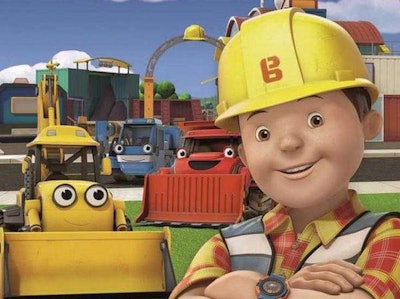 After entreating and educating children around the world for the last 16 years, the popular cartoon Bob the Builder has gotten its first refresh in the form of an all-new Bob and updated construction equipment sidekicks.
According to a report from the New York Times, the changes come as a result of a new direction Mattel has taken Bob and the rest of the characters created by Hit Entertainment. Mattel bought Hit back in 2011. Mattel has also refreshed Hit kids shows Fireman Sam and Thomas the Train Engine.
In addition to Bob's new look, new actors have been hired to voice the characters.
Though still a computer-animated cartoon, the new Bob looks much more like a real guy than the old one, which more closely resembled a toy.
It's unclear why it took 16 years to give the show a refresh but beyond Mattel feeling it had become a bit stale, a main factor behind the change is likely that the more realistic look of the new show simply wasn't feasible by computer animation technology 16 years ago.
It's hard to imagine the more realistic-looking Bob and construction equipment won't resonate more with a new generation of kids. However, social media reaction to the change has been largely negative. That being said, these are adults pouting about a cartoon show aimed a preschoolers. Mattel is likely not too worried.
The series started in Britain in 1998 and airs in the U.S. on PBS and the cable network Sprout. The new episodes featuring the refreshed look will begin airing in 2015.