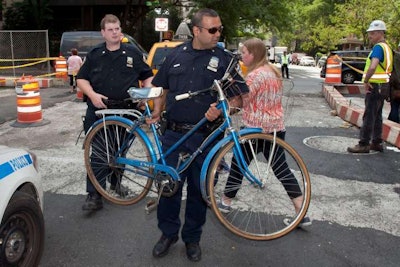 An 83-year-old woman is recovering from a broken wrist and several fractures in her right leg at Bellevue Hospital in New York City after being hit by a cab Monday morning.
But it could have been a lot worse if a certain construction crew weren't on their coffee break, according to a report from the New York Post.
The woman was walking her bike around 9:30 a.m. Monday when she was hit by a cab while turning onto West 60th Street from Columbus Avenue. After hitting the woman, the cab driver jumped out to look for her. Not knowing she was beneath the vehicle, he got back into the cab to put it in reverse.
On their coffee break at a jobsite nearby, Joe Delfino, 34, and Marcos Loyola, 60, saw the driver get back inside the cab and told him to stop. The two men lifted the 2012 Ford Escape off of the ground. Delfino held it up while Loyola pulled the woman from under the vehicle.
"All I saw was her sneakers," Loyola told the Post. "I don't know where I got the strength."