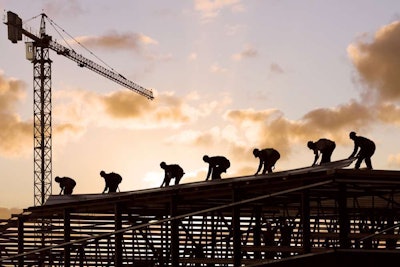 Construction firms in Louisiana are facing a heightened short-term need for skilled workers thanks a boom in petrochemical and chemical plant construction. That's the good news.
The bad news, however, is that due to other booms in nuclear plant construction in the rest of the Southeast and the shale boom in the Midwest and Rockies, those Louisiana firms are also facing a shortage of available skilled workers to draw from, according to a report from the Baton Rouge Advocate.
Citing a presentation given by Dennis Noland and Debra K. Johnson of Alpha Resources of Birmingham, Alabama, the report notes the difficulty Louisiana firms face in attracting skilled workers. For instance, thanks to the shale boom in Texas, wages for welders in Houston have gone up 8.7 percent this year. (It should be noted that construction firms in Texas have been facing the same difficulties attracting skilled workers because of the shale boom.)
By 2016, an estimated 86,300 construction workers will be needed in Louisiana to fill positions created by new industrial construction projects and to make up for the attrition of workers. That means these firms have quite the recruiting challenge ahead of them.
One group, the Louisiana Workforce Investment Council, issued a training plan for recruiting in June. It includes having counselors talk with middle and high school students about considering a career in construction, making sure Pell Grants can be used for training classes at community and technical colleges and obtaining state funding for worker training.