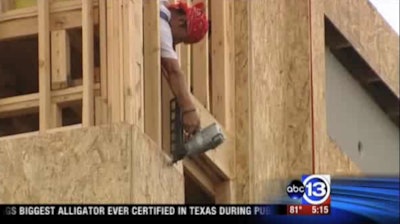 Like just about every other metro area of the country, the Houston-area construction industry is feeling the negative effects of strong demand with the inability to find enough skilled workers to meet it.
Unique to Houston's shortage however is the contribution, or complication, the energy boom in Texas has made, according to Houston's ABC affiliate KTRK.
"Truck drivers are making six figures going down to the Eagle Ford Shale and it is putting real pressure on the construction industry in general," Mike Holland OF Marek Construction, told the station.
There are even reports of poaching between desperate contractors. "A concrete guy making X dollars an hour, they desperately need workers a mile down the road, they will pay them a percentage more to move and come work on their job," said Jerry Nevlud with the Association General Contractors.
As is the case elsewhere, some of the difficulty in Houston is being attributed to the lack of interest in the industry being shown by students and young adults. Contractors there feel that there needs to be more done in high schools to make students aware if the opportunities in construction.
One bright spot in Houston, for workers anyway, is that unlike the shortage in California, wages are being driven up as a result of the shortage.