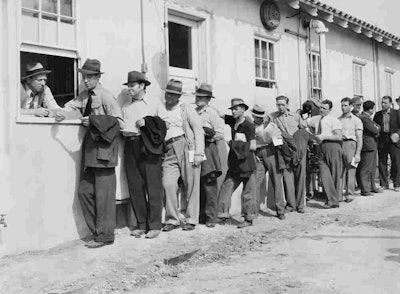 The number of initial jobless claims in the United States fell to a five-year low in mid-January, a sign of an improving labor market, the Wall Street Journal reported.
The week ending January 19, initial jobless claims decreased by 5,000 to a seasonally, adjusted 330,000—the lowest it's been since January 2008. The four-week moving average of claims decreased by 8,250 to 351,750—the lowest since March 2008.
In December, employers added 155,000 jobs, which is roughly on par with the past two years. Of those jobs, 30,000 were in the construction sector. The jobless rate remained at 7.8percent; while this is a historically high level, it's a decrease from the 8-plus-percent level experienced through much of the recovery.
During the week ending January 12, the number of continuing unemployment-benefit claims decreased by 71,000 to 3,157,000. In the same week, the number of workers requesting unemployment insurance was equal to 2.5 percent of employed workers paying into the system; this number is the same as the prior week.