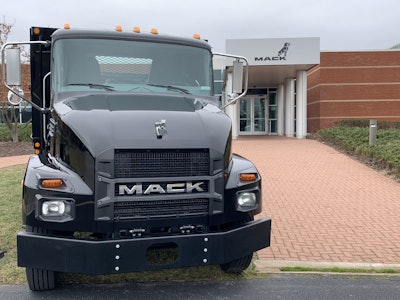 Following a delay due to the coronavirus outbreak earlier this year, Mack Trucks' all-new MD Series line of medium-duty trucks entered production this month at the company's new Roanoke Valley Operations (RVO) facility in the Roanoke Valley, Virginia.
Mack—celebrating its 120th anniversary this year—announced its re-entry into the medium-duty market in January but was forced to push MD production from July to September.
"Mack Trucks is pleased that our new MD Series is being delivered to customers as we speak, and the feedback has been very positive," said Jonathan Randall, Mack Trucks senior vice president of North American sales and commercial operations.
To establish RVO, Mack invested $13 million, including equipment, tooling and enhancements to the 280,000 square feet of the facility dedicated to producing only Mack's medium-duty models. The project will result in the creation of 250 jobs, which Antonio Servidoni, Mack vice president, medium-duty operations, said will be filled by the end of February 2021.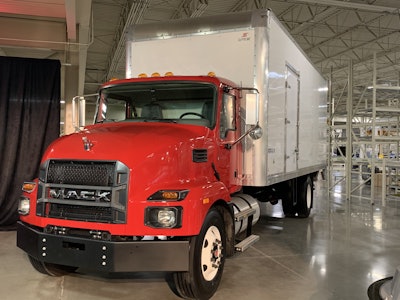 The eight-week production delay, Randall said, was largely driven by a pandemic economy that was in tailspin, and the need to develop and implement production methods and standards that comply with CDC guidelines, added Servidoni.
The new truck market is down about 40% from last year, Randall noted, but he expects 2020 to finish stronger than forecasts made during the throes of COVID, "with upward pressure in 2021 in the Class 6 and 7 segments."
The Mack MD Series is an all-new model range built specifically for medium-duty applications and brings Mack back into the medium-duty segment after an 18 year hiatus.
Targeting medium-duty trucking vocations with frequent urban stop-and-go cycles like dry van/refrigerated, stake/flatbed, dump and tank, the introduction of the 25,995 pound Gross Vehicle Weight Rating (GVWR) MD6, and 33,000 pound GVWR MD7, gives Mack a complete lineup of Class 6 to Class 8 vehicles. Available in 4×2 configurations, both models are exempt from the 12% Federal Excise Tax (FET) and the MD6 model doesn't require a Commercial Driver's License (CDL) to operate for non- hazardous payloads.
The MD6 and MD7 models feature a sharp wheel cut for enhanced maneuverability and its air-suspended steel cab features an industry-best bumper-to-back-of-cab measurement of 103 inches. Eight wheelbase lengths will support typical bodies from 10 to 26 feet. Mack mimicked the styling of the cab, hood and grille of its on-highway flagship, Anthem.
Both MD models are equipped with an inline six cylinder Cummins B6.7 engine, making up to 300 hp and 660 lb.-ft torque.
The B6.7 is the most popular diesel engine ever built by Cummins. Cummins' B Series has been on the market for nearly 40 years in various iterations. As of last year, the now-EGR-free B6.7 got a 5% power boost and 31% more peak torque than prior EGR-equipped models.
The engine is matched with an Allison 2500HS transmission and Meritor axles. An Allison 2500RDS is available for applications needing a PTO.