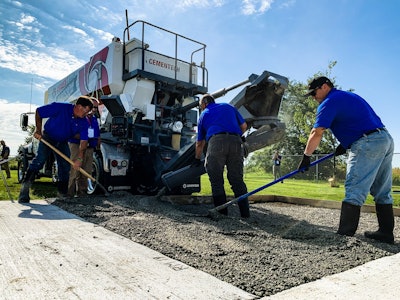 Cemen Tech, makers of volumetric concrete mixers and technology, has announced expanded compatibility of its Accu-Pour cloud software suite.
Unlike drum mixers, volumetric concrete mixers act as mobile batch plants mounted to a truck chassis or a trailer. Using a segmented body, they carry unmixed sand, cement, coarse aggregates, water, and any other admixtures or chemicals needed, to the jobsite where they can be mixed for on-demand fresh concrete.
This method of mixing prevents over-ordering concrete and can save customers 40 percent off their concrete costs, according to Cemen Tech. Due to all of the benefits, and the improving technology that has simplified operation, volumetric has seen an increase in popularity as of late.
Accu-Pour was originally developed for use with Cemen Tech's C60, a technologically advanced volumetric mixer model that displays material usage in real time, tracks key job data and allows for easy material mixing that can be as simple as a single button push.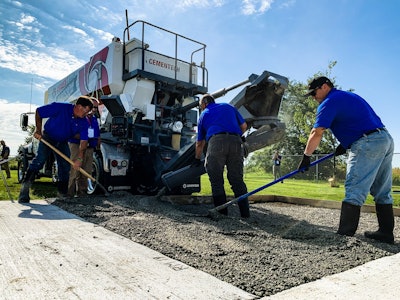 Now, Cemen Tech is extending the benefits of Accu-Pour to the company's M Series mixers, as well as volumetric mixers developed by competing OEMs.
Acting as a window into a volumetric concrete business' operation, Accu-Pour was designed to give users more control over their business through AP Office and AP Mobile:
AP Office is the front-end solution for scheduling, dispatch and fleet management. Telematics allow business owners to track the status and location of each mixer in their fleet in real time. The software documents and stores all key mixer production stats.
AP Mobile designed for tablet use and allows for users to wirelessly send and receive production data between AP Office and the mixer, as well as view mixing parameters in real time. Once a pour is complete, the final job data syncs automatically with AP Office.
With the expansion in compatibility to more mixers, Cemen Tech has also added more advanced custom reporting to Accu-Pour. The company says the reporting module can now filter data based on mixer, operator, city or zip code. The added filters give business owners the ability to more accurately bid jobs and monitor productivity, the company says.